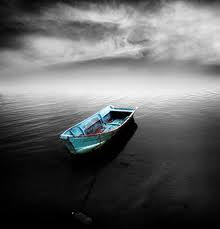 Well, it is pretty much happening the way I expected.  SiriusXM (NASDAQ:SIRI) is in consolidation mode and is simply drifting down to lower levels.   I see this continuing until the next compelling piece of news.  Unfortunately, compelling news may be at least a couple of weeks away.  I must state that consolidation in the short term does not mean that the equity is still not bullish from an overall stance.  It is simply a breather.  Thus, it is possible to become bearish in the near term while maintaining bullishness in a longer term.
There are likely some trying to figure out when this equity can get to $2.75 or $3.00.  My opinion at this point is that $2.75 will be a real test, and $3.00 by year end might be a challenge.  In my opinion it all hinges on Liberty news and company guidance.  Until we get more clarity on these things I would be hesitant to make a call on anything above $2.75 over the next couple of months (news can change that opinion rather quickly).
Volume
I have been hammering the volume aspect of the technicals for quite some time now.  It is an important metric to watch and consider and can help in providing valuable information to investors.  Whether you are long or short, seeking an entry point or an exit point, volume can give you added comfort in your decision process.

What we saw today was SiriusXM move down on double the volume from the previous day, and in the process give up a technical support level as well as an EMA level.  That is the bad news.  The good news is that the volume was still lower than the 200 day average, so the relative strength of this downward move is not substantial.  The caution here is that SiriusXM is drifting down.  What you want to watch for is if volume is getting higher as it continues to drift.  This is where looking at support levels becomes critical.
Support and Resistance 
There are some pretty subtle yet important changes in the support and resistance levels.  If you do not follow these technicals regularly enough, you may miss them, or worse yet, may believe that some of the bullish indicators have more strength than they actually do.  I see that mistake quite often.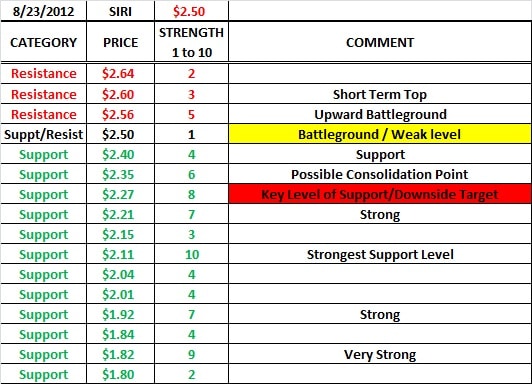 The key changes are that the battleground that was at $2.56 is now at $2.50, and that $2.56 has become moderate resistance now.  Essentially what has happened is that there is now another hurdle between the current price and $2.75 that is in play.  A week ago we had now real technical resistance.  Now we have resistance at $2.56.  Think about a sprinter having to run 100 yards.  It is an easy task.  Now consider that sprinter having to go 100 yards but there is a 5 foot wall in the middle.  That sprinter will need to expend more energy to accomplish the same distance.
The keys now are the next level of support, the battleground at $2.50, and the next resistance at $2.56.  The next level of support is $2.40.  That is where SiriusXM is likely headed given its recent behavior.  It does not appear to be running there, but instead drifting that way.  The $2.50 level is kind of sentimental, but the equity tested a couple of cents below, so the sentimental value of it is likely overrated.  If SiriusXM does not correct and turn toward $2.56 tomorrow, I see it continuing a drift down.
Exponential Moving Averages (EMA's)
Well, we are seeing the beginnings of a breakdown that I had warned about.  SiriusXM closed below the 5 day average. In addition to that, the subsequent levels are also lessening.  While the overall EMA chart is still bullish, the weaknesses we have been seeing continue to exist, and the equity is losing strength rather than gaining.  We are now down to 6 cents separating the 5 and 13 day averages, and another 6 cents between the 23 and 20 day averages.  There is still plenty of room between the 20 and 50.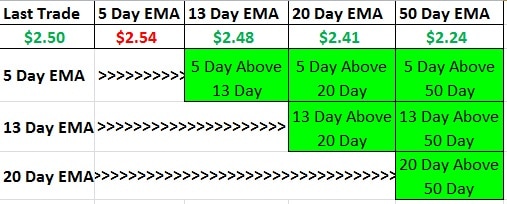 This once again proves why regular updates are paramount.  If you were to look at only today you may only see one caution flag in the EMA's while there are actually three (one confirmed and two developing).  This also demonstrates why looking at more than 1 technical aspect of an equity is quite helpful.  The EMA's show $2.48 as an important level.  It was actually tested today.  It also shows $2.40 as an important level, and that happens to be the next support point.  What we have are two technical indicators showing why $2.40 is important and likely the next stop.
What we want to see is the recent downward trend reverse.  That could be indicated if SiriusXM can close above $2.55 on decent volume.  If that happens it would align the technicals into a more bullish pattern.  Unfortunately I do not see that happening, so it is time to evaluate where we might be headed.  In looking at everything I would say we are about 3 trading days away from seeing this equity test $2.40.  Setting the technicals aside, I would say we are 7 to 8 trading days away from a flurry of news that could end the drift.  The news I expect to see is:
September 3rd or 4th - Sirius XM announces the repayment of $186 million in debt.
September 4th or 5th - Auto Sales are released for August
Sepember 5th or 6th - Sirius XM raises full year subscriber guidance
As you can see, there is a gap in the news flow happening, but when the news does hit, it may be a very positive catalyst.  I see the current dips as being a buying opportunity for traders.  The low can be established when volume on a down day dries up, or the news is about to be released.
EV/EBITDA VALUATION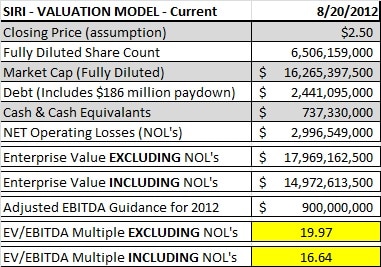 SiriusXM is now trading below a multiple of 20 (with the $186 million debt paydown considered, and the NOL's excluded).  As I have indicated in the past, it has traditionally been difficult for SiriusXM to remain at a multiple above 20 for any length of time.  A full correction (a multiple of 15) would take the stock down to $1.85.  A multiple of 17.5 is achieved at right around $2.20.  This should help give investors an idea of the ranges we are dealing with.  Ever since the NOL inclusion on the financials, SiriusXM has pretty much been able to keep itself above a multiple of 17.5.
As you can see, even from this valuation standpoint, there is a pretty wide trading range.  What I have seen from SiriusXM lately is a hefty defense of the stock with some timely press releases.  I think this defense actually will help the company to demonstrate that it is deserving of a higher multiple.  For this reason, it will be quite interesting to see what happens while SiriusXM is in this drift mode.  Seeing the bottom of this consolidation period could give us some compelling data on evaluating SiriusXM trading ranges going forward.
Summary
While there are some that scoff and are snide about these updates, I feel that I have been pretty accurate in laying out good and accurate analysis that can be used by both the trader as well as the long term investor.  If you are looking for $3 in the near term I do not see it in the cards until SiriusXM releases 2013 guidance or there is a positive resolution to the Liberty Media situation.  Right now I see $2.40 in the cards over the next few trading sessions as a near term bottom, and a battle at $2.56 as a near term top only after we see a reversal of the near term down trend.  A reversal requires a move up on good volume and taking out $2.56.