SiriusXM is drifting downward.  Is it time to worry?  Well, that depends on your perspective.  If you worry about a possible move into the $2.80's then the answer is yes.  If you are a longer term investor the answer is no.  Volume is picking up a bit, but is still well below the average.  I suspect that tomorrow will be lighter than average as well.  As I stated yesterday, I am not expecting normalized trading until after the new year.  Even the first week in January might be light given the way the holidays play out this year.
Volume
Volume picked up a bit today, but we saw the equity lose some strength.  SiriusXM has shown that it is willing to test $2.90 or so on more volume.  This could bring up caution flags and we should note this.  Bear in mind though that news could allow the $2.90 level to be defended with success, while very good news could allow the equity to test above resistance at $2.95 and perhaps even $3.00.
As noted, it is always important to watch volume and how the equity reacts at key levels.  What should be noted is that while the equity demonstrated weakness as the day wore on, it also demonstrated strength in at least trying to hold $2.90.  In my opinion we are setting up to see the $2.80's tested.  This is my buy area in the mock account, so the day could be interesting.  Remember, tomorrow is the last trading day of the week, and many people have a 4 day weekend this weekend.
Support and Resistance
We are seeing the support and resistance levels remain pretty much in tact, but now the mid $2.80's is not as strong, and the strength in the mid $2.70's has shifted down to $2.70.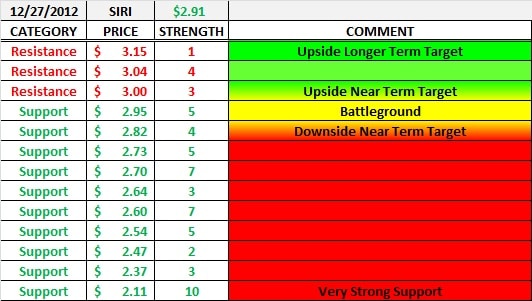 Key levels are $2.83, $2.90, and $2.95.  I feel the support is more key at the moment than resistance.  It will take something compelling to move up, and a lack of news will likely see us drift down a bit.  If SIRI breaks about $2.87 a trip to $2.83 or so could well be in the cards.  We want to see this dip on moderate to low volume.  That is where it gets into buy territory.
Exponential Moving Averages - EMA's
The EMA's still have one caution flag up and the equity is flirting with a second one.  If the close is $2.87 or lower than we see a second flag arise.  This is why I watch closely if the equity breaks $2.87.
What we want to see is SIRI hold the ground and stay within that battleground trading range.  It will take a close above $2.92 to take out the caution flag.
Mock Account
I am a buyer in the mid $2.80's to establish a full over core position