SiriusXM is not immune from market conditions.  With what transpired today it is little surprise that the equity closed in the red.  The good news is that it did not tumble as far as some other equities.  The bad news is that it broke support at $3.79.  At least it did not happen on big volume.  This now sets up some contemplation.
Right now the equity is on the wrong side of the strong support/resistance level of about $3.79.  There is strength there.  Given the light volume, we should not have broken below, but the macro-economic situation ruled the day.  Now we have to contend with that level moving up.  The longer this equity stays below that $3.79 level, the more strength it will have.
We also need to consider the next point down.  That is $3.60.  If I was playing this conservatively I would wait to see confirmation on this break tomorrow.  If I was willing to take a bigger risk, I would be a seller here with eyes on getting back in in the $3.60's.  Each investor has their own tolerance for risk and trades.
Volume was higher than the previous session, but lighter than average.  We wanted to see some consolidation, but now we want to see it hold and consolidate, and preferably make a pop back up above $3.79.  The EMA's have thrown up a second caution flag.  A technical purist would look at this as the beginnings of a bearish move.  The downside risk target is now $3.60.  Pay attention to any move to the downside that happens on increasing volume (even if it is below average).
Another important factor here is that while EMA levels tend to also be a support of sorts, it is not much help now.  We are already below the 5 and 13 day averages, and just a penny above the 20 day average at $3.75.  Essentially, if we break downward tomorrow morning, we have a real potential of testing $3.60.  Pay close attention.
Volume

Support and Resistance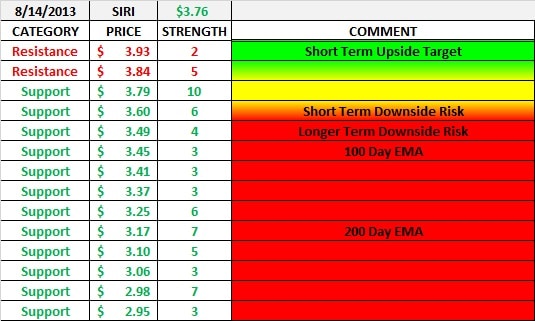 Exponential Moving Averages