Well, we got volume today.  Unfortunately for longs it was heavy volume on a down day.  This day offered positives and negatives to consider.  One positive is that we are finally seeing a concerted move.  Another is that with a brief exception the equity held the line at the 50 day moving average.   The negatives are pretty obvious and speak for themselves.  One important note is that this equity did test below the 50 day moving average at one point.  It recovered quickly, but a willingness to test a level means that there is potential to go there again.  This is true on the up side and down side.
Volume
We saw some 82 million shares traded today on the down side.  This is heavy volume and that means that there was strength in the move.  Do not ignore that strength.  In fact, watch volume closely in the early action tomorrow.  If we still have high volume there is risk of breaking lower.  How do we call the bottom?  We watch the volume.  We want to see it slow down and dry up.  The bottom will happen when the equity ticks up on low volume.

Support and Resistance
These levels did not really change today, but we did break support at $3.09 on heavy volume.  The equity held the support line at $3.05, but we need to be cautious here.  That $3.05 is support as well as the 50 day EMA.  If we break that the next support is at $2.99 and the next EMA is at $2.90.  Remember, this is options week, so trading can get a bit quirky.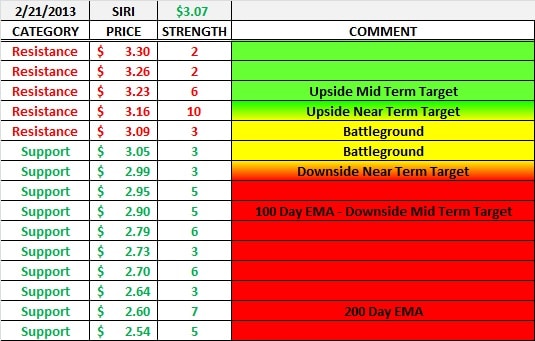 What we want to see is this equity hold the line above $3.05.  We want to see it bounce off of that level and not test below it.  If I had to guess, a test below $3.00 could be in the cards tomorrow.  Watch closely.
Exponential Moving Averages
We added yet another warning flag.  We now have three cautions and two warnings.  The signals are all there, and we are not seeing them disappear the way we have over the past few weeks.  Pay attention to this!  We are in danger of adding another caution as well as another warning flag.  These are the times that active traders actually do not mind seeing and longs get frustrated that they did not pick up that nickel or dime.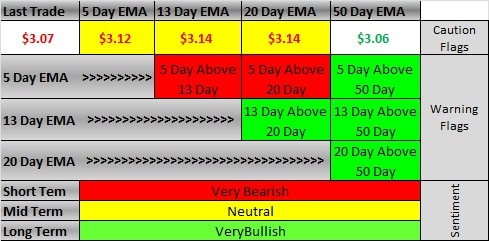 A close below $3.06 brings another caution as well as a warning.  We sit just above that now with the equity trending down on higher volume for 4 consecutive days.  These hints do not get much stronger.