For those that pulled a quick trigger on Selling SIRI at high prices early in the week, CONGRATULATIONS!  Now you are likely either looking for a re-entry point, or perhaps considering a buy of LMCA instead.  These are dynamics that will get quite interesting in the coming days and weeks.
SiriusXM closed down today on volume that was heavier than the previous session.  Meanwhile, LMCA is also trading down, so there is a double whammy happening at the moment.
Not long ago I made the statement that the closing price of this deal could wind up being about $4.00 per share.  That statement does not gain me a lot of fans, but you do not come here to hear what you want.  You come here to get a realistic and pragmatic approach to analyzing this equity.  If you want to hear the cheering section, there are other places you can go for that.
We currently sit in a tough place.  While SiriusXM is still trading above the initial $3.68 in the offer ratio, the current pricing of Liberty has that ratio lower now at just $3.50 per share!  That will not make many happy!  There will be a lot of ground to cover now for Liberty, the Liberty board, the SiriusXM independent directors, and the shareholders.  We need to remember, the consultants that the independent directors will hire will look for a fair deal based on all of the parameters.  In the end, it could be that the $3.68 that many scoffed at will look good and fair.  Bear that in mind.
As we look at the current situation, we must look at the fact than an all stock deal is what will eventually happen.  That still mean considering whether it is better to hold SiriusXM or Liberty.  Volume is higher on both, so you can tell that it is a tough decision and requires that some assumptions be made at what the end result will be.  As I have said, I am invested in both, so I am essentially neutralizing the guessing game.
What we saw today was an equity that went down on higher than average volume, and higher than the previous session.  It had looked as if the dust was settling, but it appears it hadn't.  I had warned that we needed to consider that the strong support was at $3.62 and that $3.70 was the short term downside risk.  Today we saw that short term downside risk hit.  We must now look to what WAS the mid term downside risk.  It is not the short term downside risk.
The EMA's gave a caution flag today, and these averages are very tight beyond the 5 day average.  In essence, we are getting coiled up.  That dynamic usually means a substantial move is about to transpire.  My worry is that if we are left hanging on the Liberty front in terms of news, that we could gravitate to the 200 day EMA, which is at about $3.50.  The waters are treacherous.  On the flip side, ANY indication that Liberty will sweeten the offer would be a catalyst to the upside.  News, in this case, trumps technicals, so pay attention.  In my opinion, no news sees this drift lower.  News sends it higher.  The technicals give us the exposure.  In my opinion the downside exposure is as low as $3.50.  The upside exposure is about $3.85...at the moment.
Volume
Support and Resistance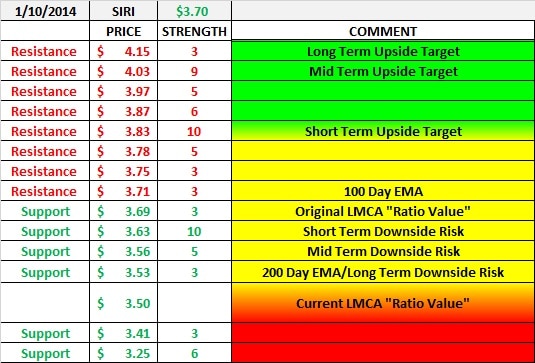 Exponential Moving Averages