Well, it could have been worse.  Typically when a company misses its EPS, it gets punished for it.  In the case of SiriusXM, some records in free cash flow, EBITDA, and revenue helped to stave off a bigger correction.  This equity will still suffer from the Liberty offer overhang.  The longer this goes on, the more the uncertainty will be a drag on the price.  The technicals are not pretty, but they could be a lot uglier.
I have the near term downside risk at $3.46, and the mid term at $3.41.  Watch this closely.  If the equity dips below $3.50 on a close, we could see these levels tested.  In other news, auto sales were not pretty.  There is a brief article up about auto sales in the free section, and more detail will be forthcoming here.
What we want to watch for is volume.  Right now volume is stable.  If it can remain stable, we should see the equity stay in a pretty tight range.  At this point the only catalyst would be some news on the Liberty front.  Upside potential is capped at about $3.60 in the near term.
Volume

Support and Resistance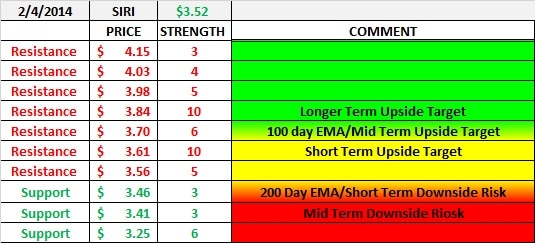 Exponential Moving Averages