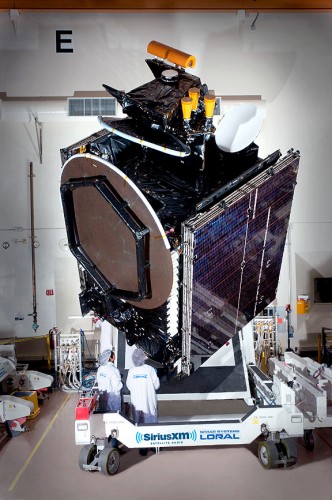 What do you do with a shiny new satellite that you will not be using?  Well, if you are SiriusXM you become part of history and donate it to the Smithsonian.  That is exactly what the satellite radio provider did with its FM-4 satellite, which it bought early in the decade as a spare, but never used.
About two years ago SiriusXM shifted strategy in how it delivers content to consumers who receive the Sirius side of the service.  The company had FM-1, FM-2, and FM-3 already in service in an elliptical orbit over North and South America.  At any given time two of the three satellites were delivering service.  The FM-4 satellite was a spare.  When the company constructed and launched FM-5, it went into a stationary orbit.
SiriusXM had long ago written off the now unusable FM-4 satellite, but until recently it essentially remained in storage collecting dust.  It seems that the company found a novel way to get use out of the satellite after all.  Put it on display at a museum that gets millions of visitors each year. Now the SiriusXM name and brand will be immortalized at the Smithsonian's National Air and Space Museum!
"The availability of a flight unit like Sirius FM-4, which was never launched, is extremely rare and will be a significant addition to the museum's collection," said Martin Collins, space history curator. "Whether experienced in our cars or homes, the remarkable innovations offered by satellite services are often taken for granted—one indicator of how the space age has changed our lives."

"We are honored that our FM-4 satellite will help the National Air and Space Museum tell the story of modern satellite communications and its powerful impact on everyday life," said Robert Briskman, SiriusXM co-founder and technical executive. "Satellite radio now takes its place as one of the great innovations of our time to inspire the next generation of broadcasters."

"Rob Briskman's concept of three satellites in a Highly Inclined Elliptical Orbit was an extremely inventive solution for providing programming to millions of listeners," said John Celli, president of Space Systems/Loral. "It is an honor to participate in the donation of the original spare satellite, which we are pleased to say was never needed to assure continuous service."
The National Air and Space Museum is on the National Mall in Washington, D.C.  Visitors get treated to seeing some of the most historic and innovative items that have brought the air and space age into being.  Seeing a SiriusXM satellite there can be a moment of pride for the company, the nation, and progress!