First things first.  I had tried to publish a report for yesterdays action this morning before I left for several meeting.  I got home to find that the piece did not publish.  My sincere apologies.  That said, here is the latest and greatest.
SiriusXM closed down at $3.83.  The good news is that the volume was lesser than the previous session.  There have now been two days of volatility.  The trading has been far from normal.  Options are still a ways out, so the only thing I can think of is speculation on something such as a subscriber announcement or jockeying for position ahead of the Q3 call, which should be just a few weeks away.
The newly formed strong support at $3.93 broke.  We held the line at the longer term support level at $3.83.  With the action over the past two days we saw the support levels at $3.77 and $3.71 weaken just a bit, but there is still strength there.  Given the lower volume today, I suspect that SIRI will hold the line and should stay above the $3.71 level.  I still believe that there is a potential run in the cards on compelling news.
On the EMA's we have a bit of trouble.  We now have 3 caution flags.  This should make you ultra caution of the downside risk at $3.71.  This is a precarious spot.  Tomorrow you will want to watch the volume and action closely.  If the equity dips, we want to see it on very light volume.  If the equity rises, we want to see it hold $3.83 and have volume that would equate to at least 40 million shares.  The EMA's can clean up with a close above $3.89 tomorrow, or $3.88 the day after.  If the EMA's fail to improve (caution flags disappearing) by Friday, we will need to re-assess the near term action.
Volume

Support and Resistance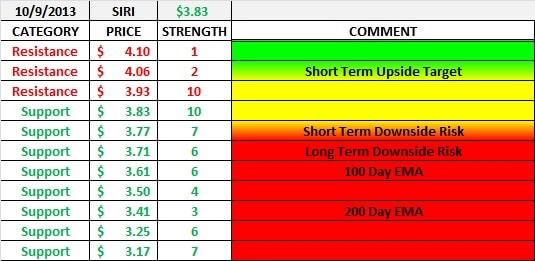 Exponential Moving Averages