It is kind of amazing.  SiriusXM is about a week and a half away from a quarterly conference call in which it will announce record revenues, record EBITDA, record Free Cash Flow and other positives yet the stock is trading on light volume and can not seem to find the gear that will drive the stock price up.  Liberty Media is now in control, so that unknown is gone yet this equity seems to be shuffling along as if it is oblivious to what is happening! Welcome to the new SiriusXM!
It has taken quite a long time, but SiriusXM is now a company that trades on fundamentals, and just when we get used to them the dynamics shift.  Karmazin is gone.  Liberty is in.  What does all of this mean? That is the million dollar question.  Will Liberty make bold new steps?  Will SiriusXM ever get to those 40% EBITDA growth numbers that they have so often spoken of?  In my opinion the reason SiriusXM is down is because  a lot of these questions are difficult to answer right now.
The company has already announced they it met or exceeded all guidance metrics for 2012.  That news is somewhat baked in unless there is a massive surprise.  I think the biggest thing holding back SiriusXM now is in trying to model growth and how it is attained.  One thing going for SiriusXM is that each new subscriber is more accretive to the bottom line than the one previous.  That helps growth.
One dynamic that I will tell you about now is something that many will not figure out until after the conference call.  Q4 of 2011 and Q4 of 2012 delivered about the exact same number of subscribers to SiriusXM.  The year over year growth in Q4 was essentially stagnant.  Yes, even with more new cars sold, more used car deals in place, and a higher penetration rate among used cars, the company stood pretty still in terms of growth.  When something like that happens savvy investors want to figure out why.  Growth is still happening, it is a question of whether or not the curve is flattening out.
Volume
Volume today was lighter than normal and lighter than yesterday.  The equity closing down on light volume is not a huge concern, but is worth noting.  There is a lot of EMA support below, so it is simply something to monitor at this point.  I do not see a huge move in either direction happening this week.

What we want to watch for is a shift in volume at key levels such as $3.11 and $3.14.  We need to be cautious that right now the volume has been light so that has the impact of bringing down what could be considered average volume.
Support and Resistance 
Support and resistance is essentially in the same state that it was yesterday.  The biggest change is that $3.14 is now resistance instead of support.  There is weakness here, but not a lot of it.  There is also strength, but not a lot of that either.  It is going to take something compelling to move this stock.  From a technical standpoint there is nothing compelling at the moment.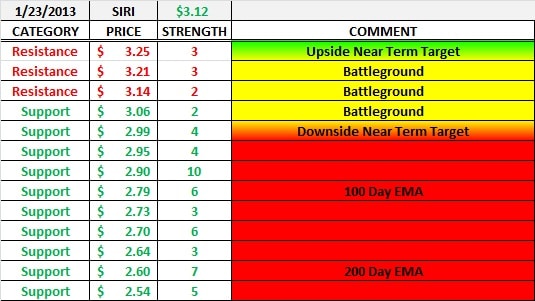 What we want to watch for is the action at the EMA levels of $3.11.  The key support level is now $3.06.  Watch the volume closely.  In order to test $3.20 volume would need to be at 80 million shares or more.
Exponential Moving Averages - EMA's
We have a caution flag!  In fact, we are only a penny away from a second caution flag as well.  At this point it is not a huge concern, but if we see the second flag develop it could point to a test of the low $3's.  Watch that closely.  The Exponential averages are consolidating a bit, but nowhere near the point where it becomes a major factor.  There is good news in that the 100 day EMA is now at about $2.80 and the 200 day EMA is at about $2.60.
The words of the day are "holding pattern".  All you need to do when an equity is in a holding pattern is not get lazy.  These are the times you want to pay attention and watch for signals.