Well, if you were a quick and savvy trader that was willing to take on a bit of risk today you were rewarded.  I sent out a bullet point mid day saying that signals looked like $2,85 was in the cards and it did touch that level briefly.  If you have not signed up for email alerts on articles posted, please do so,  That will get you notified the second I publish anything.  It is a free value added service to members, so please take advantage of it.
There are likely some active traders saying should have, could have, would have after seeing what amounted to a 10 cent swing today.  Do not beat yourself up.  It was a risk play because there was always a threat that the equity could continue to run.  If you believe that it is pure luck to catch the top and the bottom, then a 10 cent play turns into a 6 cent play.  Worth getting if you can, but you need to weigh the risks.
There are a few key things to cover in this report, so let's get to it:
VOLUME 
The biggest thing I noticed today was an increase in volume as this equity made a run down to $2.85.  I always say that if an equity is willing to test above or below a key level that it is demonstrating a willingness to go there.  On Friday SiriusXM dipped below $2.90, and that gave me the courage to say that another test below was a possibility.  That is just what happened.  The second item of note is that the recovery off of $2.85 was fast and carried volume.  That combination tells us a few important things.
First, it tells us that there is a contingent out there that believes that the equity will test lower.  Second there is a contingent out there that was looking for an entry point at below $2.90, and once presented it was jumped on.  Believe it or not this action gave credence to the support levels at $2.85 and $2.90, and this equity seems poised for the conference call.  It appears to me that there is a "debate" over whether to run up into earnings or be on the sidelines.  So far it looks like the run up side is winning, but there is another day or two of action before the roulette master calls for final bets.

Another key volume item to note is that while the volume was above average, it was lower than the past several days, including the 5 day and 13 day average volume.  This speaks to consolidation and ranges.  The important levels to watch are $2.85 and $2.90 (the open tomorrow).  If the equity bursts up to $2.95, then it would appear that $2.90 is real.  If it dilly dallies around and the volume is not substantial, $2.90 can break and another test of $2.85 is in the cards.  You need to watch volume very closely at open and if this equity dips below $2.90.
SUPPORT AND RESISTANCE
The story with support and resistance is actually very interesting these days.  As bullish as things look, it needs to be noted that while the upside seems to have little resistance, the downside actually does not have very strong support until you get to $2.75.  That presents a pretty compelling dynamic as to why the upcoming Q3 call needs to hit on the material that the street wants to see.  The key items are 2013 guidance, the status of Karmazin, and share buybacks.  Get the info we want and $3.00 will materialize.  Come up shy and $2.75 is possible.  Get something in between and$3.00 may materialize but be harder to hold, while $2.85 sets the base.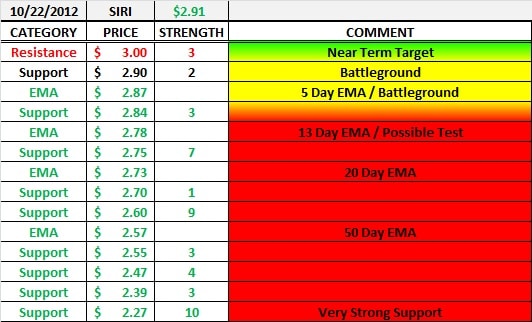 As stated above, tomorrows key is what happens at the open and on what type of volume that action happens.  If I was willing to gamble I would bet on a test of $2.85 tomorrow.  If I was willing to absorb a bit more risk I would say that testing $2.82 will happen as well.  Early action in the morning will set this stage.
EXPONENTIAL MOVING AVERAGES - EMA'S
The EMA's remain bullish, but then again they had wiggle room.  Notice that the gap between each successive average has narrowed a bit.  If this gap gets down to a couple of cents we start to have warning signs.  As you can see, there is plenty of wiggle room that remains, and in fact SIRI could test $2.78 without bucking the bullish trend.  This is important to note, because the trend overall is indeed bullish, and any dips down, are in my opinion great points to add to a position.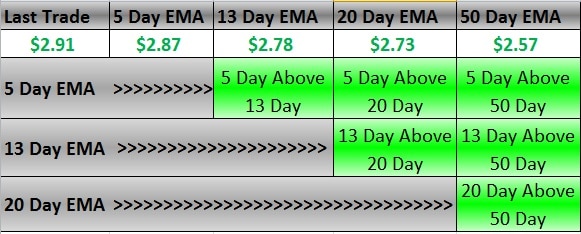 SUMMARY
Early action is the key.  We could stick to a range, but I am thinking that we will visit $2.85 at least one more time.  I think that the street will be placing its final bests on the call starting Wednesday afternoon.