SiriusXM continues to march upward going into the Q3 conference call.  The equity tested $4.17 today and closed at $4.13.  The action happened on lower than average volume, but higher volume than the previous session.  Up on higher volume is good.  We have not seen this equity make a bold move on heavy volume though.  That is what we want to see.
Over the weeks leading up nto the call, I have told you several reasons where additional bullishness is warranted.  I have also outlined my concerns.  As we approach what I consider the top of the valuation chart, I want to stress a caution.  That caution is that getting past $4.25 on the current information is going to be a challenge unless the company outlines 2014 guidance.  This ios really simple.  If we get guidance we can see an upward move past $4.25.  If we do not get guidance, I would consider it a sign that perhaps $4.25 will be the intermediate term ceiling.
We still have very strong support, and very strong EMA's.  There are signals that point to $4.25 before the next consolidation point.  It is simply time to pay attention to the things that drive valuation.  We need that guidance.  The gap between the 50 day and 20 day EMA is still at 10 cents.  We have some room to grow here, but it has its limits.  New members should read yesterdays report as soon as possible.
I know that your time is valuable.  I believe that this service is valuable.  I do not want to waste your time with something personal, but as it will relate to the service, I hope you might indulge me.
I am getting married on November 9th in the great state of Texas.  I will be flying out on the evening of Thursday, November 7th.  There will be no update that day unless I get stuck in an airport.  November 8th I have to get my marriage license, rehearse, and have a rehearsal dinner.  I will try to update that evening, as tradition states that I can not see the bride the day of the wedding.  My wedding is Saturday the 9th of November.
My official Honeymoon trip does not start until the 17th.  That being said, I will be with family a lot.  I may be able to do a couple of updates during that week, but do not want to make promises.  Beginning November 17th my official honeymoon trip begins.  I will be out of the country until November 24th and unable to do any updates.  The schedule is below: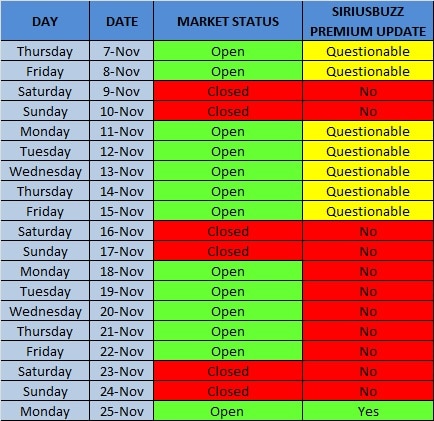 As you can see, during this period there are 13 days where the market will be open during this period of time.  I will be unable to update for 5 of those days, am questionable for 7 days, and will update on 1.  I wanted to inform readers now, so that you can plan appropriately.
I feel that we deliver a consistent service to users, but understand that as a paying subscriber that you expect product.  I also know that several members here have gone through nightmares with subscriptions on other sites.  I do not want to see those nightmares happen here.  A big cause of those was uncertainty.  That is why I am informing you now rather than when it happens, or after the fact.
If you like the service, can live with this absence of coverage, and want to call it a wedding gift (lol) then everything can remain the same.  If you feel that you would like a rebate or refund for the absence, please send us an email.  We will work with you so that you are happy.  We always strive to make our readers happy, but want all of this to be as simple as possible.  Please try bto notify us of any concerns prior to November 1st.  Thank you for indulging me on this.  Now to the charts:
Volume

Support and Resistance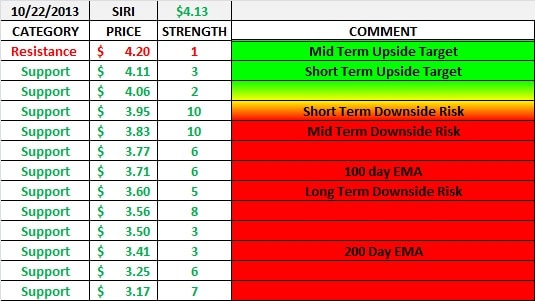 Exponential Moving Averages