We are not really drifting up, yet we are not drifting down either.  Simply stated, we are treading water and consolidating here in the $3.60's.  Support and resistance remains essentially the same, and the EMA's are still a rainbow of color.  At the moment I would say we are looking at full constriction between $3.65 and $3.70.
The battleground has been established.  I see SiriusXM not giving up too much, but not running off to the races yet either.  We still need to keep $3.60 in our sights, as well as the 100 day EMA at about $3.50.  For the next several sessions I feel this equity will trade with the market.  If things are looking up it will tend to move up a few cents.  If things are looking down it may test $3.60 again.
The slow trading patterns of summer are coming to an end.  Volume will begin to pick up in the next couple of weeks, so be ready.  There is little reason for SIRI to break down from here, and many reasons why it might move up.  If you are a trader, the next several sessions may frustrate you.  If you are looking to add or establish a position, this area may well be the best place.
Volume

Support and Resistance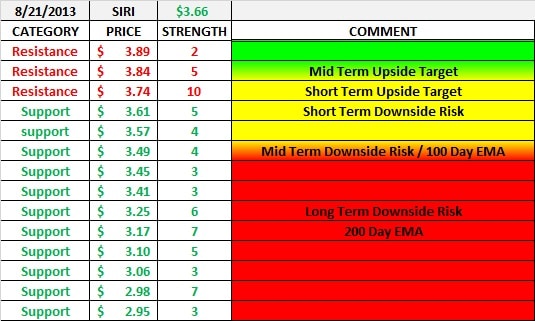 Exponential Moving Averages