We have now seen volume move to just above average.  Unfortunately, SiriusXM was moving down when that happened.  What we have now are some very bearish signals in the short term, but in my opinion, a shift to bullish may be waiting in the wings.  We simply have not seen a concerted move in either direction.
Volume
At 63 million shares traded, SiriusXM has finally stepped up in the volume department.  The equity did dip down, but has remained above the 100 day EMA.  What we want to watch closely is the level at $2.95 and what happens with volume there.  If $2.95 is broken on volume, the next stop is the 200 day EMA at about $2.85 or so.

Support and Resistance
The story here is pretty much the same.  A wall at $2.95 and a wall at $3.09.  Watch for volume and if the equity can test above or below these key levels.  Even going beyond one of these levels briefly could be significant when an equity is wound as tightly as SiriusXM is.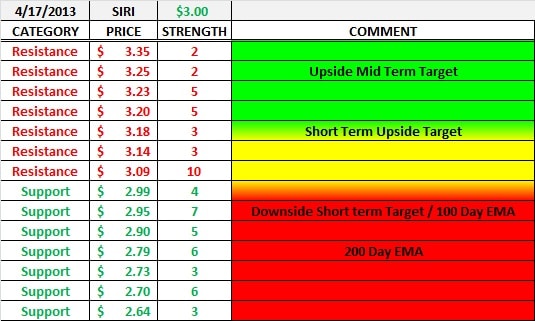 Exponential Moving Averages
All bearish and all red.  The  EMA's are not looking pretty.  They are still tight, but are developing gaps in the downward direction.  The longer the equity stays down below $3.09, the more likely it will sit in this range for a longer period of time.  We want to see a reversal and a positive move up to test $3.09 on volume.