Another day has passed, and we saw SiriusXM essentially tread water.  The equity closed at $3.83 on lower than average volume, and lower volume than the previous session.  If you look at volume over the past week you will note that it has been losing steam along this trip to the downside.  It would appear that a bottom may well be forming.
There are a couple of compelling things to note.  The first is that the equity has held the line at just one caution flag.  The fact that the company held that line speaks to a strength in staying above critical points.  The second noteworthy item is that a substantial support and resistance point has developed at $3.83.  That bodes well for the long side.  Staying above $3.83 is now the goal at hand.  It also happens to be a decent launch pad for future moves above $4.00.
While this is speculation, it is my opinion that the company will announce subscriber in the next week or so.  I believe that the company will do this because it will be a very good number, and the number next quarter will appear soft in comparison.  Should that announcement come, I believe this equity will go above $4.00.  With volume as low as it has been, and what appears to be a bottoming out, it is my opinion that active traders will want to be long.
Volume

Support and Resistance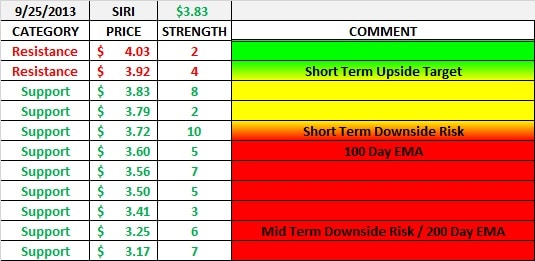 Exponential Moving Averages