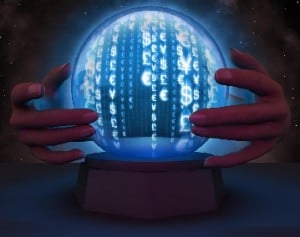 Here is the situation we are in with SiriusXM.  The thought is that Mel Karmazin speaking at Liberty on Wednesday will be positive.  That establishes expectations.  What happens if Mel gets up there and simply delivers the typical company sales pitch that the street has heard several times now?  In my opinion there will be disappointment.  Not disappointment about the prospects of SiriusXM, but rather disappointment that nothing new was offered up.  That presents a quandary.  Quandaries make people indecisive.  Indecisive people stay on the sidelines if they are already there, or simply hold tight.  What everyone, including the equity itself, is waiting for is a positive development that we know will be announced soon.
In my opinion, absent positive news, this equity would already have taken a trip down to $2.60 or so and set up some more consolidation as it awaits the Q3 report and perhaps some 2013 guidance.  Long term holders have little to worry about.  The outlook remains strong.  More active traders have to weigh the benefit of a possible spread against the likelihood that news will come out.   Simply stated, it is a gamble.  It has potential to pay off with a few cents and a potential to sting you with a few cents.  Technicals say it will retrace a bit while sentiment says that news is pending and that the news will have value.  At this point, if I were trading I would get my position and hold.  I simply see more upside than downside, and the risk of poor timing is too great.
Before getting too far, I want to welcome new members and encourage you to go back several premium articles to get a feel for how my technical analysis works.  If any member has a question or comment you can always email me.
Volume  
SiriusXM traded down on light volume today.  The volume is indicative of no real meat here and that the street is waiting for something to chew on.  Have you ever gone out to a restaurant in hopes of having a nice filet?  You think about it all the way there, wait for you table, and when you are finally seated have the waiter tell you that the filet is sold out.  The chicken there is great as well, but you simply had your hopes set on the filet.  You still had a good meal, but were disappointed.  This is what Wednesday will be all about.  The one wild card here is that if Mel were going to announce something, I would think that he would do it prior to speaking at Liberty.  That means that perhaps tomorrow we can see some news hit the wires.  Do you see why active traders are in a quandary?

Some good news is that the lighter volume over the passed few days has allowed the volume needed to make a substantial move lower.  Instead of needing to pass $2.70 on 80 million shares, we need to see it happen on 70 million shares.  See why consolidation is good!
Support and Resistance
We are essentially in the same place we were Friday.  Little has changed on the support and resistance front, which means that we still have decent support below, and decent resistance above.  While I would not say that SiriusXM is range bound, it could get there with no news to move on.  Essentially we had SiriusXM dancing between $2.66 and $2.67 for the second half of the day.  This is the second trading day that the equity has tested below the support at $2.67 and that would indicate a willingness to break support under the right circumstances.  The action here is purely about news flow or lack of news flow.  The short data does not matter, nor do the options.  The market is anticipating something, and until that arrives the street is in a holding pattern be it in the equity or on the sideline.
What we want to see is this equity test $2.70 on over 70 million shares if it is going to break that level on a technically sound basis.  We want to see the behavior as this equity trades in the morning.  Because it closed at $2.67 I have still labeled it as support for today.  Had SiriusXM tested $2.64 again today the $2.67 level would have had a dual label.  News is the key here, as is the timing of that news.
Exponential Moving Averages - EMA's
As expected the EMA's remain bullish.  There was nothing that happened today to change that dynamic.  What we are seeing is the 50 day EMA moving up toward $2.50.  That is the level this equity loves to test on the downside.  It is a level you will want to pay attention to.  When all of the news is delivered, and the equity has had a chance to react, $2.50 or so will represent the downside potential on a bad report, a miss on some number, or other bad news.  The upside right now sits at $2.80, and then a test of $3.00.  In my opinion, it is not until all of the 2013 guidance is delivered that this equity can make a meaningful attempt at $3.00.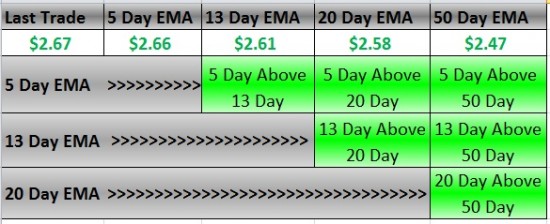 What is happening with the EMA';s is that the 20 day and 50 day averages are creeping upward while the 5 day and 13 day are remaining stable.  This is narrowing the gaps between each average a little bit, but at the same time bringing up that all important 50 day level.   Essentially SIRI can trade sideways for about 3 days before the gap between the 5 and 13 day averages are erased.  If that happens, it will create a movement in the equity.  With news that movement will be up.  Absent news, it could mean a brief drift down to $2,60 with a rebound to follow.