The good news today is that SiriusXM closed on the right side of a key support and resistance level.  The bad news is that volume is still quite light, and until this equity can confirm the move with a bit of volume we are still not out of the woods.  The key thing to watch for is remaining above $3.61 and building volume.  The near term EMA's are still bearish, but consolidating.  Half of the battle will be maintaining a position above the converged EMA's.
SiriusXM responded well to the overall news of the day, but was not making a powerful technical statement.  We still need to be cautions of a dip down, and can not yet say that this will spring up.  The day of a bigger move is coming.  The EMA's are all now within 4 cents of each other.  Watch things closely!
We want to see volume now on an upward trend.  Even a penny or two on progressively more volume is positive.
Volume

Support and Resistance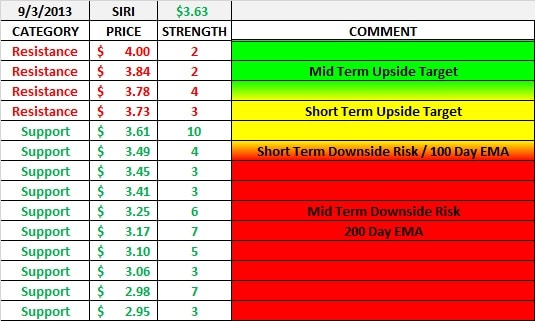 Exponential Moving Averages