We are seeing the volume taper off, and at the same time seeing the equity flatten out in terms of price.  Ironically, SiriusXM has gravitated to the initial ratio offer made public by Liberty Media.  Certainly there are some frustrated SiriusXM investors out there that have been expecting the equity to appreciate on the fact that Liberty is stepping into the picture.  I have seen premiums discussed, and seen people wanting to assign vale to just about anything they can think of as if they will no longer be invested into satellite radio when or if  the deal is done.
Before moving into the technicals, the most important thing investors need to understand is that you will still be invested in satellite radio.  The spectrum will still have its value.  the NOL's will still be utilized.  The company will still, in theory, grow its business just as it otherwise would.  In theory, perhaps Liberty Media, with SiriusXM under its control will do better.
Let me ask some questions.
What if I were to tell you that promotional opportunities and synergies between SiriusXM and Live Nation were more possible going forward?
What if I were to tell you that there are 5.7 million Charter Communications subscribers that allow a synergistic and easy bundle with SiriusXM?
What if I were to tell you that there are 11.1 Time Warner subscribers out there that might have synergies and an easy bundle with SiriusXM?
These types of things are a bit of the potential that SiriusXM might be able to work toward as a subsidiary of Liberty.
In the midst of this, we already have lawsuits filed accusing SiriusXM for not getting the best offer in this deal, when siriusXM has not yet even responded.   The sharks in this may not be Liberty Media, but rather the attorneys that are making a profit play, and in the process, possibly slowing down what has potential to be a great thing for both SiriusXM and Liberty investors.
As things currently stand, the initial ratio offer is now valuing Sirius XM shares at $3.46.  This is well below the initial offer.  I have stated several times that Liberty will likely have to sweeten the deal.  There was a point where this could get more toward $4.00, but that seems to be wishful thinking at the moment.
The volume today was getting lower.  This would seem to indicate that, outside news, we will be in a pretty narrow range.  The support and resistance, as well as the EMA's are holding pretty tight.  Right now the thing to watch is the news flow and the price of Liberty stock.
Volume

Support and Resistance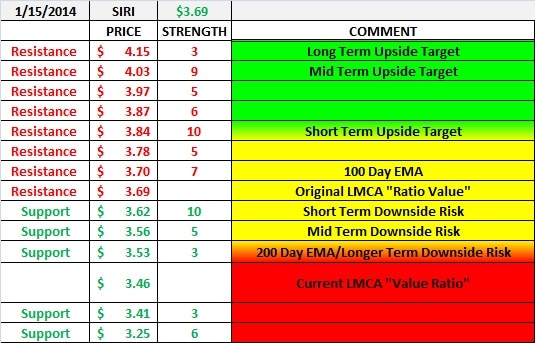 Exponential Moving Averages