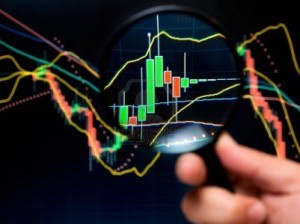 Another trading day has closed, and once again SiriusXM continues to stay withing a very narrow trading range that is likely getting as frustrating for long term holders as it is for active traders that have been sitting on the sidelines.  A down day on low volume typically does not set up a mountain of worry, but the ever narrowing moving averages are a point of concern.  The first and foremost concern is that it is getting quite difficult to know whether we are due for a retracement, or due for a run.  While what I say today may not be wildly popular, it needs to be said.
Before moving on, I would like to pose a request to the premium members.  As you know, this premium section of SiriusBuzz is new.  I would like your feedback, and even like a few testimonials that I can use in marketing the SiriusBuzz Premium site.  Thank You in advance for considering SiriusBuzz premium, and I hope to hear some good feedback. You can send feedback and testimonials to satellitestandard@gmail.com.
Volume
As stated, the volume has been low. What we are looking for is what happens on a day of decent volume.  Does the equity test a key data point with conviction, and what is the reaction when it does?  We recently saw SIRI test $2.56 with volume, and that could have been positive, but volume backed off again.  Many that follow technicals look for confirmation.  Confirmations is simply defined as a second move that confirms the first.  For example, if SIRI tested $2.56 on volume and followed it with another day of testing or even passing $2.56, then that would be a confirmed move.  SIRI has been testing but not confirming.

SIRI is not confirming anything right now, and the technicals are pointing to a harder run to the upside and an easier path to the downside.  That is not to say that the longer term outlook on SiriusXM is bad, it is just pointing out the near term.  Karmazin speaks Wednesday, so potentially we may get some news that allows this equity to break the narrow range and develop a new one.

Support and Resistance
Here is where some people may get frustrated with me, but the numbers are the numbers.  I do not make them up.  Clearly SIRI is in a narrow range.  The equity has been dancing here so long that there is essentially a groove in the floor.  What I do not like is that the resistance above is gaining strength and is now stronger than the support below.  In addition, the equity is trading closer to strong resistance than it is to strong support.  The caution is that there is technical room for a 10 cent slide before we hit meaningful support, and only technical room for a few cents to the upside before hitting meaningful resistance.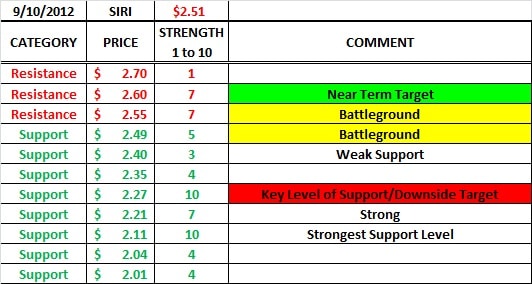 While there is support at $2.49, it is clear that Liberty media has had a very big hand in creating that support.  What happens when Liberty stops that support?  You can rest assured that the traders, and in particular the shorts, are salivating at entering a position.  They get more eager when they see a stronger resistance point above.  Bear this in mind.  We have seen strong support at $2.40 migrate up to about $2.50, but that now leaves weakness at $2.40.  The next stop with any strength below is $2.27.  Be cautious.
Exponential Moving Averages - EMA's
The EMA's are getting tighter than a soldiers butt cheeks when mortar rounds start to fall around him.  This is not at all a comfortable place to be.  Of course longer longs that are holding because of the longer term potential are not worried, but those looking to enter, exit, add to core, or simply trade have no confidence at all right now.
We have a few cautions yet again.  The closing price was below both the 5 and 13 day averages.  Not a good technical sign.  When everything is green it is very bullish.  To be clear here, the short term (5 and 13 day averages) outlook is still bullish (but barely).  The medium and long term (20 and 50 day averages) are very bullish, but trending toward simply being bullish.
What typically happens is that once one domino falls, others tend to follow suit.  SIRI has been adept lately at keeping bullish signals while flirting with bearish ones.  A close of $2.51 again will tighten things even further.  Look at the gap between the averages.  It does not get much closer than this!
Summary
The downside potential right now is greater than the upside in the near term.  The concerns I have are compounded by the Liberty actions.  At some point they will have to stop buying.  I delayed this report today waiting to see if Liberty had a new form 4 out.  As yet they do not.  I want to digest the volume of Thursday and Friday.  There is a lot of money and traders on the sideline.  They are waiting for a confirmed point to happen.  Longer term we are still bullish, so entry points may present themselves in the coming days.  The wild card is Mel Karmazin speaking Wednesday.  Pay close attention.