Whenever we have a see-saw, some nearby technical support levels can fluctuate rather quickly.  This is what we saw today.  The good news is that the strongest resistance point is now $3.63 and SiriusXM managed to close right at that level today.  One small step up and we are on the correct side of the key level.  One step down and we are on the wrong side.  It will make tomorrow's action quite interesting to watch.
We have the EMA's all within 5 cents of each other, so the coil is pretty tight.  The goal we want is to see SiriusXM rise up above the key support and resistance level on volume of over 40 million shares as the spring gets coiled up.  If we are on the correct side of this we can see some running room above.  The key is watching all three technical indicators closely over the next three trading sessions.  The EMA's did see a couple of caution flags disappear, but we are in a sensitive zone.  I am cautiously bullish at the moment in the mid term.
It is my belief that we avoided a scare this week and avoided a test lower.  We want to see this equity rise up and begin a run on decent volume.  Yes, the lawsuits and other news had a potential to shake some trees.  What is positive is that August auto sales look good, and the summer is coming to a close.  This should bring renewed interest and VOLUME to SiriusXM once again.
Volume

Support and Resistance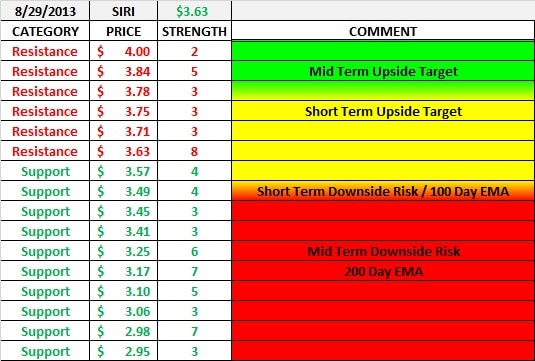 Exponential Moving Averages