Shares of SiriusXM closed above the critical level of about $3.83 today.  Staying above this level is important in that it is a major support and resistance indicator.  While this happened, a new level of moderate resistance has formed at $3.87.  Volume was well above normal at 190 million shares, a bit less than half of the massive volume we saw on the day prior.  Essentially, there appears to be a cap of sorts on SiriusXM at the moment.  Meanwhile there is also a cellar that has been established at about $3.68.  It would appear that we are trading closer to the cap than to the cellar.
What investors need to watch for now is the volume at about $3.83 and the volume at about $3.87.  It would be a pretty nice victory to close above $3.87 on volume above 100 million shares.
The EMA's are still cleaning up.  We saw another warning flag disappear, and are on pace to see the EMA chart looking pretty green by the end of the week.  At that point, I think we will see things consolidate in the EMA chart, and the next catalyst will be some news from SIRI on the Liberty offer.
Volume

Support and Resistance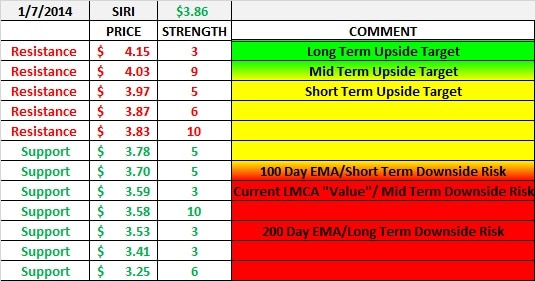 Exponential Moving Averages