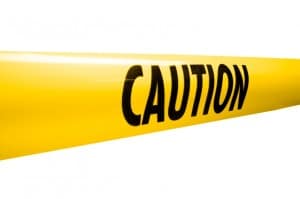 Well get ready! Another caution flag was delivered today and we are now on the cusp of a third caution flag  as well as our first warning flag.  To top that all off, this action happened on volume of 65 million shares.  While that volume is normal, it is a departure from the lighter volume we have been seeing.  I would not say that SIRI is at the edge of a cliff, but I would say that it is at the edge of a dip.
Volume
This was the type of volume I wanted to see SiriusXM build into while maintaining a price above $3.10.  Instead we see a volume spike and a downward move.  While not overly concerning, it is a signal that there is possibly a dip in the cards.  I stated before that this dip does not really worry me down to about $3.07.  With the action today I would pay close attention.

What we want to watch for here is if the downtrend continues on volume above the 65 million we saw today.  The open is important tomorrow.  There is a bit of support at the 20 day EMA which sits at $3.07 and then support at $3.00.  If SIRI can not hold the line at $3.07 then we will see a dip that could possible take this equity below $3 for the first time in 2013.  For the first time in a while I am going to bring up my mock account.  If SiriusXM breaks to $3.00 on volume I will likely pull the trigger and sell my level 2 over core position (still holding core and level 1 over core).
Support and Resistance
We have a re-alignment of sorts here and a consolidation of levels.  A Support and Resistance sits right at the closing price of $3.09 and support at $2.99.  SIRI needs a bounce if it is going to not give up that $3.09 level.  As stated above there is a support factor in the 20 day EMA at $3.07 so that is a key area to watch.  Break that and we could be looking at v$2.99 square in the face.
Key levels are $3.00, $3.07, and $3.09.  The upside is off the table at the moment.  It will be on the table again if SIRI can close above $3.11.
Exponential Moving Averages - EMA's
We have a second caution flag, are flirting with a third, and we are even in danger of seeing a warning flag develop.  In the short term the picture is not real pretty at the moment.  You need to be cautious here.  Bear in mind that there is a decent safety net in the 50 day EMA at $2.95.  While $2.95 seems to be off in the distance, it is closer than we would like to think.  It is another key level.  If we dip below $3 we want to see this equity bounce off of that.  If it does not the support level at $2.88 is the next stop.  The good news is that support at $2.88 is very strong.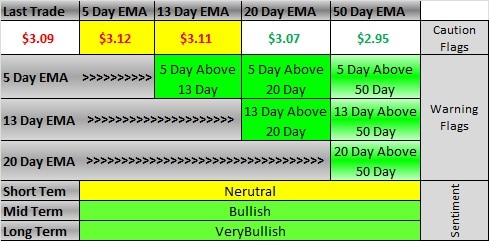 Stay tuned, watch the volume and watch the key levels.