Over 100 million shares change hands and SiriusXM stays stuck in the muck.  What is it about a company that can generate the cash flow that SiriusXM can that has investors so gun-shy?  My answer is that the street saw SiriusXM as a better play in the hands of Liberty Media, and that the street is simply waiting for the next Liberty move.  Despite Liberty saying that they have the utmost confidence in SiriusXM, the withdrawal of the offer is tough to see as positive when the stock has been languishing.  Another big fear is that the quarterly report will show (to some) that the growth pace at SiriusXM is flattening a bit.
We have to be very watchful of the volume.  If this equity tests the $2's, it could be ugly.  Worse yet, the 100 day EMA is now crossing below the 200 day EMA.  This is a very bearish stance on the company.  If this equity does not get itself back up quickly, we are in danger of a situation where getting out of the muck becomes even more difficult.  The last time that the 100 day EMA crossed below the 200 day EMA was in 2006, and it was not pretty.  When it crossed back above the 200 day in early 2010 we saw a nice run up.  There have been a few occasions where the 100 day has bounced off of the 200 day since, but we really have not seen it test below.  That is a very real fear we need to be aware of.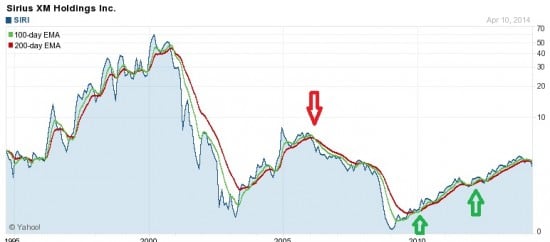 There is not a lot of support below, nor is there major resistance above.  The hope here is that we stay above $3.00 and work back up to take out the resistance at $3.43.  That is not an easy task, and will likely need some catalysts.  Essentially there is a lot hinging on the presentation in the upcoming quarterly call, and how the company frames its outlook.  Right now it is very easy for the street to look at the competitive environment and scratch their heads.
Be cautious over the coming weeks until the call.
Volume 

Support and Resistance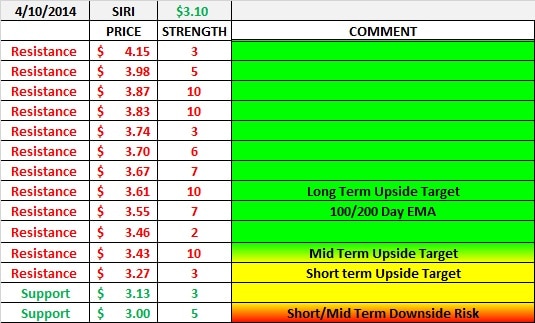 Exponential Moving Averages