SiriusXM closed out the week on a high not.  It managed a close above $3.15 on high volume.  This is a signal that I had been looking for as a stating point for a run and a test of $3.25.  While this test may not be immediate, the ingredients are now all in place for it to happen.  Signals remain bullish for the equity and moving averages continue to gain strength above $3.00.
Volume
The volume was very heavy.  With 145 million shares changing hands, there is definite strength demonstrated in the move.  This action actually served to confirm my thoughts earlier in the trading session when i initiated a mock trade.

What we want to see now is volume remain strong with the equity maintaining a positive movement.  The problem is that with volume so high on Friday it is hard to see volume even higher.  This is why I say that while the ingredients for $3.25 are all in place it may take a bit of a breather before making that leap.
Support and Resistance
Support and resistance is showing some interesting points right now.  The $3.15 resistance was broken, but the support and resistance chart has now moved up a point to $3.17.   We saw this dynamic happen in the $2.70's when the equity was having issues in the mid $2.70's.  Support and resistance levels bounced between $2.74 and $2.77 as the equity battled in that area.  Watch to see if that action happens again.  The key is paying attention to the bias the equity is trading with.  Right now the bias is bullish.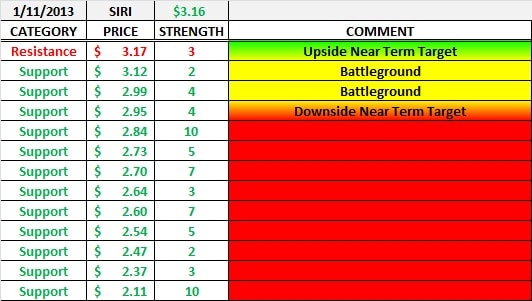 Key levels are $3.10, $3.15, and $3.17.
Exponential Moving Averages - EMA's
The EMA's are continuing to present a bullish outlook.  The better news is that the 20 day EMA has now joined the 5 and the 13 day EMA's above the $3.00 level.  This builds confidence that $3.00 presents a good foundation and a great safety net for small retracements.