It has been a long time since I have seen the support walls look like this.  We have strong support at $3.84, strong support at $3.76, strong support at $3.71, and strong support at $3.58.  If you like to see downside risk minimized, then you are likely smiling right now.
The situation is this.  The lawsuit against Liberty Media about the SiriusXM acquisition was just tossed out...Q3 auto sales are strong (despite a week September).  The debt picture is strong...cash flow is strong...content is locked up...the company seems focused on top-line growth.  Simply stated there is every reason for the equity to get bullish.  With 4 safety nets above the 50 day EMA, things are looking great.
In summary... we have massive protection below, and open waters above.  Watch for a couple of tests of $4 and then to shoot through.  I actually think that the territory from $4.-3 to $4.10 is an easy path before the street begins to get cold feet (just a little) on being at another multi-year high.
Volume

Support and Resistance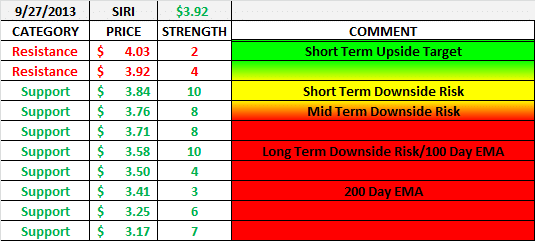 Exponential Moving Averages