Well, we finally saw this equity break through the $4.00 barrier.  SiriusXM closed at $4.05 on 36 million shares of moderate volume.  I would have preferred to see this close on 40 million, or even 50 million shares, but we will take what we can get.
We have an interesting dynamic forming now with the tehnicals and fundamentals lining up quite nicely.  From a fundamental standpoint we have what will be a good quarterly call this week.  From a technical standpoint we have the EMA's looking good, great support below, and little resistance above.
SiriusXM closed just shy of my short term upside target of $4.06.  While it is tempting to move that target up a notch, the moderate volume has me keeping the target in place.  That being said, my next short term target is $4.10, and I expect that to be eclipsed in the very near term.
What we want to watch for is whether or not SiriusXM can hold $4.00.  If this equity can hold that line on Monday, we have a reasonable shot at $4.15 or beyond in my opinion.
We have strong support at $3.95 and $3.83.  If we break below $4.00, we will see a resistance point develop at about $4.05.  If we stay above $4.00 we are better positioned going into the call.
The EMA's created some leg room, and everything is in the green.  A close above $$3.98 keeps it that way.  When SiriusXM is range trading, it typically makes a small run and then relaxes toward the 13 day EMA.  With the 13 day EMA at $3.94, we are in a great position.  We have the 13 day EMA lining up well with a strong support level.
One risk/reward situation is the launch of the FM-6 satellite.  If the launch is successful, we can maintain the bullish stance.  If there is an issue with the launch, it could be quite bad.  Bear this in mind.  This launch is perhaps the biggest risk to the equity that we have seen in a while.  I do not anticipate a catastrophe, but let's face it...When you are a satellite company, anything to do with satellites carries a lot of weight.
Volume 

Support and Resistance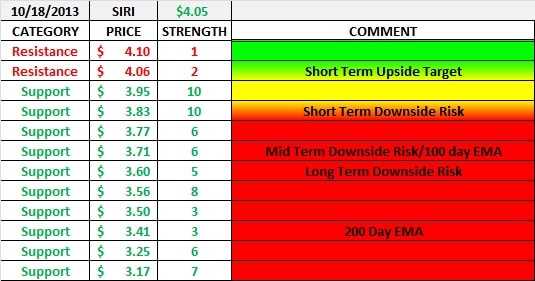 Exponential Moving Averages