Okay, it looked like we were finally getting something to to work with.  Then at the end day SiriusXM pulled yet another rabbit out of the hat and closed right at the technical $2.50 point I have been watching for days now. While the "strong" close helps the technical side of the equation, it is what happened during the day that we want to pay attention to.  We actually got volume, and we actually broke a technical support or resistance point.  That is the only clue savvy traders needed to see.
This is a lesson in why looking at these technical indicators often is paramount.  Yes, it is somewhat tedious, but if it provides a signal that gives investors confidence, or allows for an entry or exit, it is worth monitoring.  You can not just sit back and look at a chart once a week.  It is a constant process.  Even when it seems that there is nothing happening, there are underlying indicators to watch.
Yes, I spent days looking at caution flags, noting them, and looking at behavior.  There were days that seemed bullish and days that seemed bearish, but underneath it all we were seeing weakness develop and gain steam.  A day like today was a day that traders watch for.  SiriusXM broke the support and did so on volume.
Volume 
We actually saw a move on volume today.  Consider that on heavy volume this equity spent most of the day at around $2.47.  Did the downgrade today have an impact.  Probably a bit.  This is why I have stated that you need to watch the news flow in conjunction with technicals.  Personally I was anticipating the next piece of news on SiriusXM to be positive.  The downgrade took me by surprise.  Where I was not surprised is in how the equity reacted.

What we saw today was confirmation of the weakness presented yesterday.  I have been waiting to see another Liberty Media Form 4 filing, and one has not materialized.  The street and the savvy investors know that Liberty needs to stop buying at some point and await an FCC decision.  Absent a filing, and absent Liberty supporting the stock price, this equity could take a natural path.  In my opinion that is what we saw.  For longs, a saving grace may be Mel Karmazin speaking tomorrow.  He could provide a catalyst for upward moves.
Support and Resistance
Time to get serious.  The reality is that SiriusXM pulled a strong close.  The other reality is that millions upon millions of shares changed hands below that level.  We can not really ignore that.  SiriusXM is right at a key level now, with weak support at $2.40 and strong resistance at $2.60.  If nothing else, today reset some support and resistance points and opened up a possible trading range that was some size to it.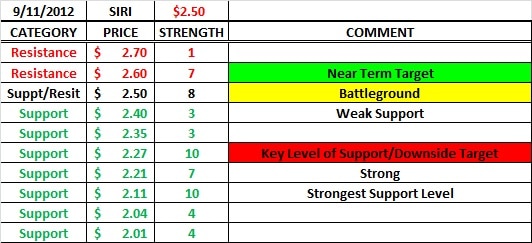 What we are now looking at and must consider is two steps down.  That would be $2.27. It is a point that I have been keeping in the back of my head for quite some time now.  I am not saying that SIRI will go there yet, but the odds of that happening have just increased now that SIRI tested below $2.50 on volume.  To the upside we have wiped away the resistance at $2.56.  The next stop upward is $2.60.  SiriusXM was essentially begging for a new trading range, and something had to break to allow that to happen.  We witnessed that today.
The key is what SiriusXM does now.  Was the pop up to $2.50 a head fake?  Tomorrow will tell us more. Remember, Karmazin is speaking and that could influence the price.
Exponential Moving Averages - EMA's
Remember how I was saying that the EMA's are tight? They are tighter today.  Remember how I said that when one domino falls it can make several fall?  That seems to be starting to happen.  First things first.  SiriusXM has not yet given up a bullish stance on the EMA's.  It is however flirting with doing just that.  The close was below the 5 and 13 day EMA, and the equity traded below the 20 day EMA for most of the day.  We now have a few warning flags on the EMA chart.
Here is the danger.  The 5 day EMA is dancing on the edge of going below the 13 day EMA, and the 13 day vs. the 20 is not far behind.  A close tomorrow below $2.47 could send up the first red flag on this chart.  Watch the action closely.  I reiterate again that Mel is speaking, and potential news may impact things.  Bear that in mind.
Long term the equity and company are sound.  What we need is clarity on Liberty Media and some new guidance for 2013.