Things that appeared to be okay early in the week broke down across the markets on Thursday.  Wednesday it appeared as though SiriusXM had fought off a big dip by moving up into the $3.40's on decent volume.  Thursday the market saw a major sell-off, and SiriusXM dipped into the $3.20's on even higher volume.  In my opinion the action we are seeing in SiriusXM is more about the overall market than it is about this company.  That being said, we need to assess.  My short term risk target held until we saw the overall markets have a confidence breakdown.
At this stage the risk profile must be looked at.  We have downside risk in the near term to $3.23.  If that breaks, we could tumble to $3.14 or lower.  Investors should have some caution and watch the overall markets.  On the upside, I maintain a short term upside target of $3.46, though there is some moderate resistance through the $3.30's.  My belief is that the company will post good numbers for the quarter, and that this can boost confidence in this equity despite the current overall negative perception in the markets.  At this stage people are looking for stability and SiriusXM can offer that.  However, the key now is awaiting the bottom, getting confirmation of a bottom, and then making your move.
The EMA's are now very ugly.  Do not ignore that.  This equity can not really move until the caution flags begin to fall.  That can not happen unless this equity can climb back through the mid $3.30's.  The situation is not dire here, but the quarterly report will set the tone for the balance of the year.  In my opinion we need that report to change the course in a meaningful manner.
Volume

Support and Resistance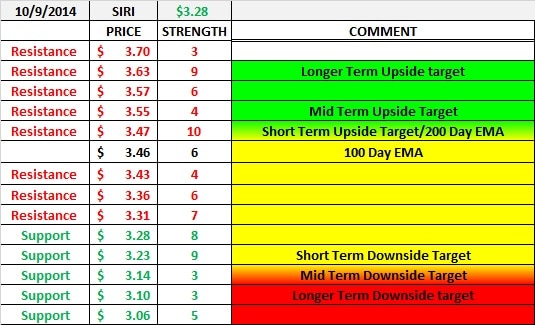 Exponential Moving Averages