Things have gotten a bit ugly.  As we all know, there is no real catalyst for positive momentum on SiriusXM at the moment.  That does not mean that things are bad in the longer term, but it does mean we have no real fundamental or technical reason to go on a big run either.  I had felt that SiriusXM would be able to hold the 200 day EMA, but in early action today, the company broke below that level.  What is the risk now?
The answer is that support below is pretty weak.  Once the 200 day EMA fell by the wayside, this equity has a chance to tumble to about $3.30.  It sounds odd, but that is actually where we are at the moment.  There is a little support at $3.40, but below that, we do not have much to count on.
This move down has happened on lower than average volume, but that volume has been increasing with the move.  Caution is needed here.  I feel that there is no need to rush into a buy, and that the buy will be signaled in the technicals.  What we want to see is volume dry up again, and consolidation.  The EMA's are now spreading out to the downside.
Already today, we have volume of 34 million shares.  The equity seems to be stabalizing, but the balanvce of the afternoon today and tomorrow will give us a better feel for the next move.  If we can remain above the $3.45 level through lunch today, we have a better chance of seeing recovery.
Volume

Support and Resistance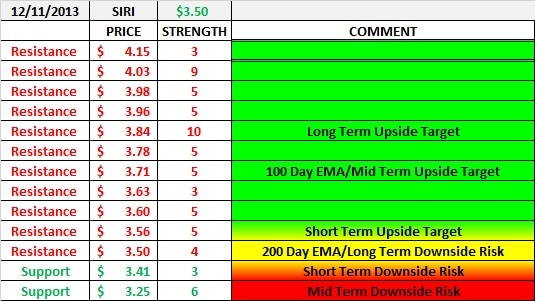 Exponential Moving Averages