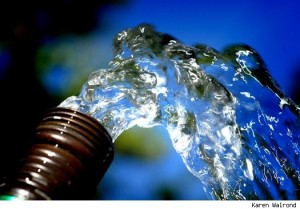 Wow!  What a day.  Remember when I said that it would take compelling volume to break through $2.60?  Well that is exactly what happened today.  While I was expecting this move on news about subscribers and Guidance, the point I was hammering home over the past week was that the technicals were looking for a reason to stretch and had walls and safety nets of protection below.  While the news I was anticipating has not panned out yet, the concept did.  Hopefully you were all able to benefit from it, if only in added knowledge.
In a mid day Bullet Point I stated this in a bit of a warning about the action today:
"This move up is based on speculation.  While it is great to watch, the speculation needs to be solidified to hold higher levels.  Two strategies here.  If you are an active trader watch for a top by looking at what happens to volume through the balance of the day.  If you are longer term, holding is quite fine, just understand the dynamics at play."
By noon this equity had between 50 million and 60 million shares traded.  The second half of the day saw the volume pressure decrease and about 30 to 35 million shares.  This piece of info is for the more active traders.  Do you see what happened as the volume tapered off?  The stock began to retrace.  News on speculation can get an overreaction.  If you are savvy enough you can play that.  However, with essentially a 5 cent swing is it worth the risk?
There are a few things that can happen from here, but my focus is that I still anticipate some SOLID news from SiriusXM prior to the Liberty Media Investors Conference.  Such news could serve to propel this stock and solidify the support at current levels.  Now down to the nitty gritty.

Volume
SiriusXM traded on 88 million shares of volume.  That was the type of pressure needed to break through $2.60.  As the day wore on the volume tapered off and we saw the retracement.  Understanding that readers are at differing places in their learning about technicals, I want to take a moment to illustrate what I mean by volume.  Hopefully the more experienced members can be patient here.
Picture a garden hose pointed straight up into the air.  Now picture turning on the spigot to full power.  The water shoots up out of the hose, then despite remaining at full power the flow of water above the hose subsides and normalizes.  Now picture turning down the spigot a bit.  The water is not going as high now.  The more you turn it down, the lower the water stream.  That is what we saw today.  We saw a surge early, normalized trading, and then the spigot being turned down.  I hope this helps readers understand the dynamic of volume.

What we want to see now is continued volume to move up, or normal volume to consolidate.  Remember, NEWS IS KEY HERE.  If SIRI trades on less that recent volume of about 70 million shares, but higher than average, it is consolidating.  If it breaks support at $2.60 on average volume, a test below to support will come into play.  In order to test $2.75 for real we need volume of at least 85 million shares.  It is almost better to walk up to $2.75 rather than sprint.  We want to hold levels on normal volume.  The sprints almost always fade after the initial surge (think of the hose).
Support and Resistance
There are some slight changes in the support and resistance chart.  Of course, having broken $2.60, that level now becomes  a  support level.  In addition I have consolidated the support level at $2.54 and carry a weak support at $2.50.   Here I want to break stride for a moment and bring up gaps.  There is now a substantial gap between $2.57 and $2.62.  I would not be surprised to see this gap fill in the absence of news.  It is also my opinion that any news will see this equity quickly return up to 52 week highs and beyond.  If you are thinking about playing this, you better be close on the trigger.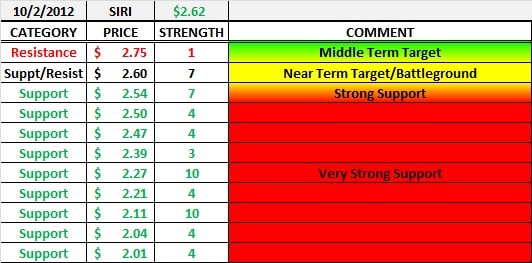 Notice that the chart fades from one color into the next and where the battleground is.  Trading in this range is a distinct possibility.  This equity still has several safety nets in place, so the story is still bullish.  Remember, news is key!  Watch volume levels closely in the early action tomorrow.
Exponential Moving Averages - EMA's 
The EMA's are all bullish.  That should not be a surprise.  Notice that the gaps between the successive levels are getting spread out a bit.  This is good in that it provides cushion for the equity to trade without fear of losing the bullish trend.  There is still room for the spread to increase to about 5 or 6 cents between each before the equity might consolidate again.  What we hope to see is the equity above $2.70 at that point.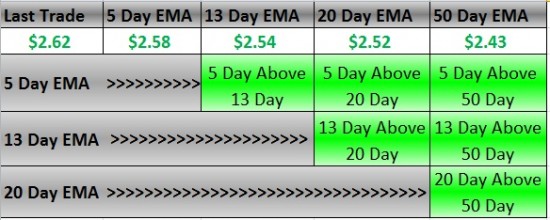 What we need to see to extend the EMA's is SIRI close at $2.61 or better.  A close at $2.58 keeps the current status.  A close at below $2.54 (a support level) starts the caution flags.
Summary
Waiting on news.  We want to see the equity hold the line at $2.60.  We want a steady move up rater than a sprint.
Premium Member Update
We are working on email alerts and should have news on that soon.  As always, we appreciate your feedback!