We got big volume today, but the equity was unable to break $3.00.  A trade in the mock account was tempting when the equity bounced of of $2.91, but I did not pull the trigger because I felt that even with a nice bounce that there was too much uncertainty with the CEO announcement.  Thus I am still sitting on Core with cash to invest.  The news today was that the Mel Karmazin era at SiriusXM has come to an end.  We now have the Jim Meyer era beginning, yet at this point he is the interim CEO.
Volume
We had almost 126 million shares traded today.  As impressive as that is, it was not able to break this equity past $3.00.  Let's stop and think about that for a moment.  What that tells us is that it will take very impressive news to get this equity above $3.00 to stay.  If 126 million shares could not break that level, there is no way anything less (at least in the next few sessions) will do it.  You can see why watching simple metrics like volume is important.  That is a nugget of information that allows you to develop a strategy based on data rather than simply hope.  By example, if SiriusXM went to $3.01 on 50 million shares tomorrow I would call it a head fake.  The equity needs to take out levels on strength.  As this latest news settles in and the volume normalizes the volume needed to take out a level will decrease.

Support and Resistance
The support and resistance is interesting.  The equity closed on a downward not just above support at $2.94.  That close in and of itself was a small victory.  We want to see the equity hold this support, bring up the moving averages, and set a nice safety net in the mid $2.80's.  Whether we like it or not this fiscal cliff is an issue for the market and we want as much safety support below as possible.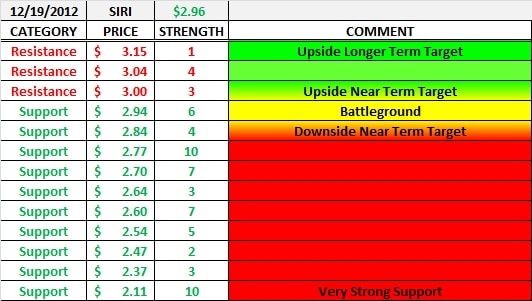 The key levels to watch are $2.90, $2.94, and $3.00.  As usual, the challenge is watching how the equity reacts at these levels.  Sometime patience pays off.  I did not pull the trigger on a buy at $2.91 or $2.92 today because the equity bounced but the volume at the time was picking up on CEO news.  I did not buy on the upside because the equity did not break that $3.00 mark.  Patience worked out.  The equity is where it was and I did not have the stress of a trade and did not chase the equity.
Exponential Moving Averages - EMA's
The EMA's remain bullish and green, and as Forrest Gump would say...."That's All I Have To Say About That".  Kidding aside, we have the much desired wiggle room, and the equity can actually afford a close of $2.91 without raising a caution flag.  As you can see, the $2.90 cent level I identified as a key level is indeed important.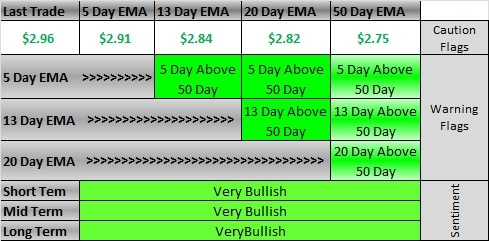 Mock Account
The strategy is the same as yesterday.