There were over 80 million shares traded below the 200 day EMA.  SiriusXM dipped down as low as $3.38 before recovering up to $3.47 on the close.  Most of the day was spent at $3.46 to $3.48.  While this action may be frustrating, the key is figuring out what happens next.  Did SiriusXM take its plunge and recover, or is the high volume an indication that there could be more downside?  In my opinion, now more than ever, we need to keep an eye on the downside.  If volume abates and normalizes, we can then establish the base, and what the direction possibilities are.
I still like the longer term story on SiriusXM, but feel that there is a lot of short term negatives that could impact investors.  I have discussed these in the past.  They include the sub numbers, acquisition, and payments relating to the satellite launch.  All of this laundry will impact SIRI in the Q4 call.  In my mind, it is now looking like SIRI will have a negative (or bearish) bias until after this stuff gets processed bt the street.
On volume, I would now like to see it normailze.  Support at $3.41 is now a key level.  If that breaks, $3.30 could become a battleground.  It is actually possible that SiriusXM can touch $3.25 if the overall economy is not materially better.  The EMA's simply look ugly right now.  One signal that could be a glimmer of hope is the RSI.  Rigfht now the RSI sits at 29 and anything under 30 is considered oversold.  What we could be looking at is consolidation between $3.45 and $3.55.  This is a strk difference than the $3.65 to $3.75 I was speaking of only days ago.  Breaking the 200 day EMA was a major technical move.
Volume

Support and Resistance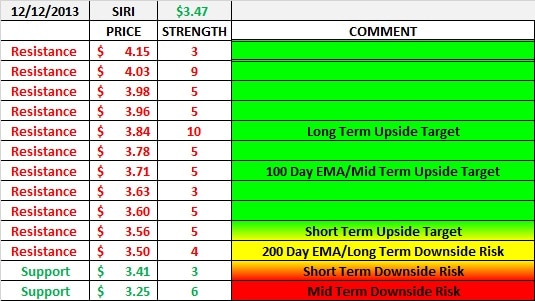 Exponential Moving Averages