SiriusXM is once again exhibiting bullish signs.  We saw the equity erase 2 warning flags yesterday, and today we saw the equity hold that all important $3.35 and remove two more caution flags as well as a warning flag.  Hopefully readers are now in tune with how to see the signals early.
SiriusXM closed at $3.40 on volume slightly below average but higher than the previous session.  The action was good, but SiriusXM did tail off at the close from a high of about $3.45.
On the support and resistance, we saw the equity test high into the $3.40's.  This is bullish.  There is little technical resistance all the way up to $3.57.  That is my short term target.  In my opinion, $3.45, and $3.50 will develop into resistance points if the equity does not test them quickly.  Watch support at $3.37 closely.  If the equity can hold that line the bullish stance we are in will not be broken.
Volume

Support And Resistance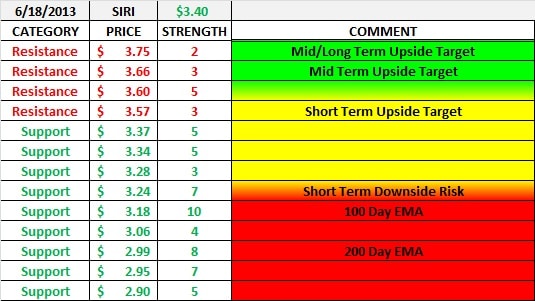 Exponential Moving Averages