Readers here saw this bearishness happening prior to it happening.  That is why you are here.  I am not looking for much out of the call tomorrow.  It will likely be bland and a 'just the facts" type of call.  Do not look for hype, do not look for things to be downplayed.  Definitely do not look for information on the Liberty situation.  That situation is in the hands of the independent directors.  Management will not be forthcoming with comments, as they will be construed in one way or another to lawsuits. While others have been trying to "gather up the troops" and leading a chorus of the latest "fight song", I have been preaching that a savvy investor is preparing.  This is not about liking or disliking the deal.  It is about be prepared for the possibilities, and not getting caught up in the emotion.  Emotion can cost you several points in this if you are not careful.
Analysts are anticipating 2 cents for an EPS tomorrow with a high estimate at 4 cents.  SiriusXM should meet the streets expectations, but the quarter will be an interesting one.  Remember, the GM deal is different now.  Revenue that usually comes from GM will not be flowing the way it once was, the company bought Agero, and the company launched a satellite.  The satellite launch is capex, so it will not impact the EPS.
In many ways, the current call does not matter too much.  What will matter is guidance and the Liberty deal.  We have already seen some flavor on the guidance, so now it is how well the street digests the guidance that will be key.  In my opinion analysts will get very conservative on assumptions associated with share buybacks now.  That could temper any upward move on assumptions by the street.
The technicals are now pretty ugly.  Key support is being tested, the EMA's have shifted to being very bearish, and there is now uncertainty about the equity.  The company will be tested in many ways until we hear a response to the Liberty proposal.  Even when we do hear a response, I fear that the equity will take a beating because from what I can tell, about 75% of retail investors (including some that write about the equity) are CLUELESS on the dynamics of this ratio deal.  Simply stated, the deal could be sweetened by 10% and the "conversion to share price" will be lower than when the initial offer was made.  This deal will make fools out of many.
Volume

Support and Resistance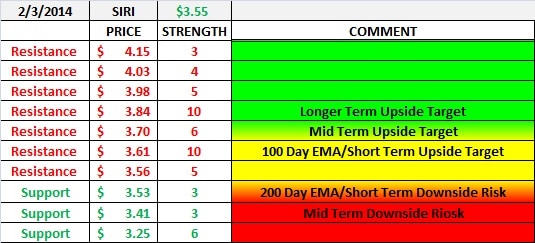 Exponential Moving Averages