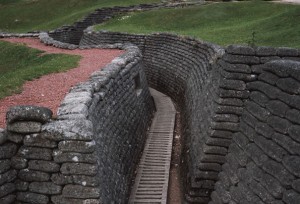 Trench warfare is never pretty.  Even a victory tends to come at a great cost.  SiriusXM (NASDAQ:SIRI) has been battling in the trenches for days now, and while we already know that the equity is on solid footing, it makes it difficult to assess where the equity will go in the short term.  This quarter will be an interesting one.  If you got used to the $2.99 billion on the earnings, get ready for a much more modest quarter.  The progress SiriusXM has made is very nice, but you have to consider everything.  We all love seeing the debt get paid down, but it will be Q3 that takes the brunt of the costs to do that.  In other words, great news for the long term, and possibly painful news on earnings day.  I will publish a detailed model in another premium article.
Meanwhile, we are only a few days away from a very positive auto report, and I believe the company issuing some PR's about debt repayment, and perhaps even a raising of subscriber guidance.  If SiriusXM can get through Tuesday holding the line in the trenches, we could see a near term pop develop. There are some key points in the technicals, so read on and see the news!
Volume
As I have been saying for a long time, this equity is consolidating.  Liberty Media, with their buying pressure may have actually propped up the stock and held it from testing the $2.40's in earnest.  The fact that even on low consolidation volume the company held the line has allowed me to move some support levels.  As a premium reader you are in an exclusive club of those that have this insight.

Remember, what we are looking for is moves that happen on volume and around key price points.  If we see volume start to pick up, it could be an early signal of a move. Anything above 50 million shares should peak your interest, so keep a watchful eye.  Another key consideration is that this is a holiday weekend.  There are many people off.  This allows the equity to be better controlled by fewer people.  Be aware of this.
Support & Resistance
There are some big changes in support and resistance that a casual watcher of the equity may miss.  In what was otherwise a Ho-Hum trading day, SiriusXM actually solidified a few price points.  The first item to note is the $2.40 I have been writing about is now $2.45.  Great news!  We now have a higher possible consolidation point.  The next item of note is that $2.51 has become a much more substantial support point.  Even better news!  The third noteworthy change is that $2.60 is getting stronger as resistance.  Not so good!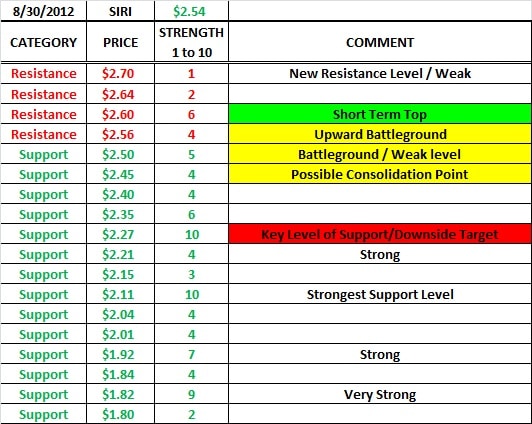 So here is where we are.  We are in the middle of a battle between $2.56 and $2.50.  The narrow trading range does not allow active traders to actually play the equity.  It would be a lot of work to make money in such a narrow range.  What the market will look for is a compelling move.  That move will either see this equity test support at $2.45, or test the near term top at $2.60.  In either situation I see it as simply setting up a new consolidation point.  In other words, no real movement, but rather a lot of sideways action.
Exponential Moving Averages - EMA's
Once again, SiriusXM has walked a fine line.  I still have some caution flags out here.  It is a good thing that there will be some positive news next week, because some of these levels are getting close!  Right now only 3 cents separates the 5 day and 13 day averages.  This gap has been narrowing.  From an EMA standpoint, the signals are that the equity may retrace slightly because the gaps are tightening. This is why you want to watch closely.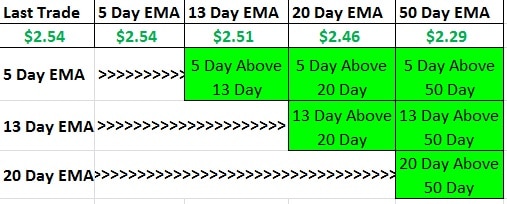 Here are some key points to consider and watch for.  Notice that the 20 day EMA sits right at the support level at $2.45.  SIRI is close to passing below the 5 day average, and the 13 day is right behind.  That would leave support at the 20 day.  Don't get me wrong....A correction down to $2.45 does not erase the bullish signals altogether.  Remember, the 5 and 13 day signals are short term.  The 20 is intermediate term, and the 50 is longer term.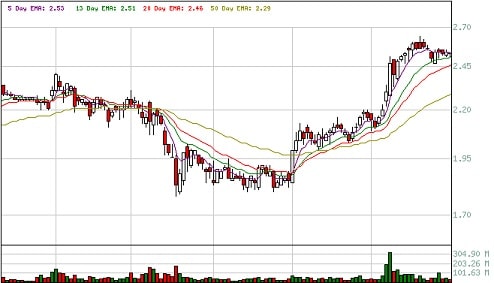 Summary
Keep your eyes peeled for volume and be aware of the holiday weekend.  Positive auto news is around the corner, but the earnings picture in 5 weeks could be cloudy.  Happy Trading.