A week to go until the quarterly call and SiriusXM seems to be barely trading.  Only 19 million shares changed hands today!  SiriusXM has not made a run toward resistance, nor has it really challenged support.  I am anticipating good numbers this quarter so I think that the bias will be to the upside.  This equity wants to make a bold move and this quarter may provide enough ammunition for that to happen.
Volume
Volume was quite light today.  No strength in the move up, but no action down below either.  The key levels are now $2.99 and $3.07.  SiriusXM sits just between these levels.  Thinking forward, the next support below $2.99 is $2.95.  The next resistance above $3.07 is $3.11.  The way I see it there is more room in the opportunity to the upside than risk to the downside.  If the equity can get above $3.11 then we could finally catch a run to test recent highs again.

Support and Resistance
Support and Resistance has a small change of note.  The two strong resistance levels that were at $3.05 and $3.10 are now converged.  The new resistance level is $3.07.  This is good news in that now there is one level to take out instead of two.  That being said, this equity has lacked the volume that it takes to make a solid move.  We want to see $3.07 taken out on about 75 million shares.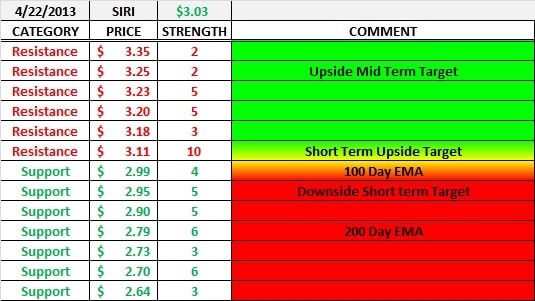 Exponential Moving Averages
We did see a caution flag disappear today.  This could be the first signal of the technical reversal I spoke of yesterday.  If the equity can walk up a couple more cents then we could see another flag disappear.  That could be followed by warning flags coming down if things go right.  Stay Tuned!