Well, shy of an announcement by CEO Mel Karmazin, it appears that SiriusXM behaved pretty predictably today.  The company did not even dip its toe toward support at $2.55, and knocked on the door of resistance at $2.60 a few time in early trading before giving up on that chase.  The last half hour did show some weakness, but it transpired on low volume.  Remember, it is going to take good volume to pass through and hold $2.60.  With SiriusXM it is simply prudent to keep updated and watch all of the signals you can.
I received a few emails today asking about direction.  One thing to bear in mind is that with this equity things can change in short order, and a direction call depends on whether you are an active trader or a long term holder.  My opinion is that the near, middle, and long term trends are all positive at the moment.  The longer term has been positive for quite some time, and I still maintain a $3.25 price target for 2013.  Remember to look at the support and resistance levels in conjunction with other data.  The EMA's will give early hints to a shift in direction if you follow them closely.
Volume
Nothing stunning.  Nothing amazing, nothing special.  Volume was about average, and the equity behaved like one trading an average day.  I have said it before, and I will say it again.  We ant to watch what the volume level is at when an equity tests support and resistance levels.  This morning volume was at a decent clip testing $2.60 but faded off, and the price retreated.  This is why we want to see $2.60 broken on heavy volume.

The keys here is high volume combined with a move.  As days pass, recent events and volume become absorbed into the data.  Whereas we were looking for volume of about 80 plus million last week on such a move, we are now looking for volume of over 76 plus million on a move now.  In my opinion, news could bring volume sufficient enough to make a meaningful move.
Support and Resistance 
A small change in this chart after today's action.  The support lines at $2.50 and $2.55 have essentially merged at $2.53.  Bear in mind that these can split up again under the right conditions, but for the time being we now have strong support at $2.53.  Another key factor is that this support is just above, and thus supporting, the 13 and 20 day moving averages.  This is good.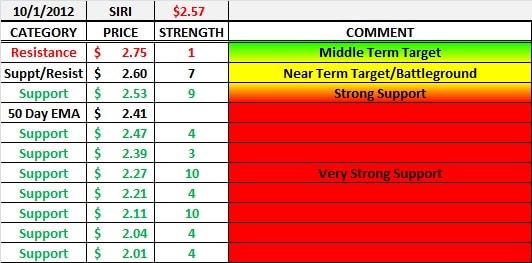 What we want to watch for is how SIRI behaves near $2.53 and near $2.60.  The adjustment in support and resistance by merging the $2.50 level with the $2.55 level does provide room for consolidation without breaking a technical level.  If no news were on the horizon I would say that the equity will trade in the $2.53 to $2.60 range for several days.  With the news I am anticipating I will say that I think SiriusXM will break through $2.60.  We simply want to see that happen on volume.
Exponential Moving Averages – EMA's
You see…It is possible to have positive developments been on a down day.  This is why I stress watching things closely.  What developed today was a bit of a widening of the gaps between EMA levels.  This is good, healthy, and actually gives the equity a little bit of breathing room to work with.  We now have a two cent gap between the 5 and 13.  A two cent gap between the 13 and 20, and the 50 day EMA continues to work its way up.

Here is what we need.  To maintain bullish behaviors we need a close of at least $2.56.  To maintain a two cent spread between averages we need a close of at least $2.57.  To improve that spread we need a close of at least $2.60.  To see the EMA's throw a bearish danger flag we need a close of $2.53.  Early bearish cautions will happen with a close at $2.54.
Summary
NEWS IS THE KEY.  We want to see new guidance and subs announced.  It is pretty much that simple right now.