It is difficult to imagine that this equity is just a week away from a quarterly conference call.  In the old days SiriusXM was good for a nice pre-call run.  Of late that does not seem to be the case.  Volume is light, the trading range is tight, and investors wondering what to do stay up at night.  This is the SiriusXM story lately.  Even though this equity has been boring, it is important to pay attention during these periods.  Here is where you will see the signs of the next bold move.
One item to note -- SiriusXM should beat the street estimates in Q4.  The company has an outside shot at posting 5 cents and in my opinion 4 cents is easy.  The street is expecting 2 cents.  I need to run more numbers and visit this again, but a beat of the street seems in the cards.
Volume
SiriusXM is still trading on very light volume.  Today the volume was again 30 million shares.  That is anemic compared to what we are used to seeing.  It has me thinking that there is an attitude of sitting on the sidelines in the wake of the Karmazin departure.  People are not sure what to expect out of Meyer.  In theory it is more of the same, but I can tell you that there is a difference between Karmazin and Meyer.

What we want to do is see volume work its way back up.  I would prefer to see this happen in stages.  Things are beginning to wind tight for SiriusXM, so now is the time to develop your strategy.
Support and Resistance
The good news is that support at $3.11 is gaining strength.  This bodes well for a bullish move as it establishes a good foundation to move up from.  The bad news is that if support there breaks we could head to $3.00.  Pay close attention if the action gets around $3.10.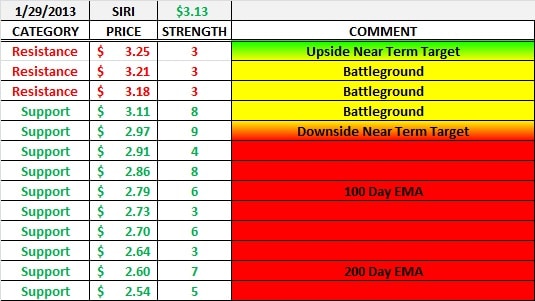 We are looking for simple things here.  A penny a day up on volume increasing by 5 million a day would be a decent 3 day trend.  In my opinion this equity is going to tighten up a bit more before the call.  Essentially, by the time this call comes this equity will be willing and able to cut loose a 10 cent move.  The question is which way.  Be cautious.  Although the quarter will be nice, the new CEO dynamic could make things interesting.
Exponential Moving Averages - EMA's
Things are getting tight.  Key levels remain the same.