SiriusXM hit a new 52 week high today and was actually knocking on the door of $3.40.  The biggest question here is whether or not we will be seeing a top, or exactly what the top will be.  The volume today was lighter than the previous day, but still quite strong and above normal.  This is positive in a sense and could leave room for a bit more appreciation.  However, the fact that we are about 30 million shares lighter than the previous day means that the strength today is not the same as the strength yesterday.  If we see volume taper off more tomorrow then we could be seeing a set up for a retracement.
If this run has caused a mini short squeeze that is an important factor to consider.  A short squeeze is good and bad.  It is good in that it raises the price of an equity.  It is bad in that the rise in price is artificial and thus subjected to a possible dip when the short covering evaporates.  What we want to seek is the crest.  I suspect that the price point of about $3.40 will be the crest point.  I suspect that the downside risk, over time, will be about $3.20.  Essentially there is potential for a 15 to 20 cent  swing in the cards for a savvy trader to consider.  Longer term I see this equity as remaining bullish and I still maintain my 2013 price target of $3.85 with a possible pop to as much as $4.25.
Volume
As indicated, Volume was lower today than the previous day.  Volume is still higher than normal.  What we want to watch for is if volume tapers off.  The key level is about 65 million shares.  Once the equity dips below that we are likely headed for some range trading.  Early hints of what I consider an inevitable retracement will come anytime volume is getting lighter.
Support and Resistance
We are at the top of the chart.  There is no indicated resistance above.  That does not mean that there may not be a wall above.  It simply means that the trading action has not yet defined the resistance levels.  Those will come in the sessions soon.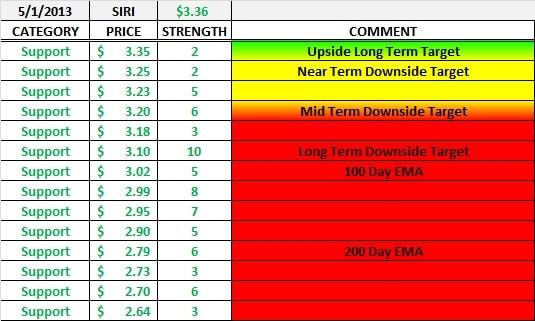 Exponential Moving Averages
The EMA's are all very bullish.  The averages have plenty of room between them.  What we want to watch is any establishment of a new trend developing.