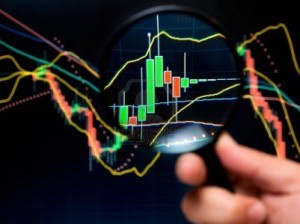 There can be nothing more frustrating than owning stock in a company that is performing well yet the action in the stock does not correlate with that success or potential.  Welcome to the global economy.  We are in tumultuous times right now and even the best companies are taking hits on the chin.  Even with great success in the cards a company is sensitive to the overall economic situation both here and abroad.  Investors in SiriusXM need to bear that in mind as the company has typically traded at a premium to its peers and oft at a high multiple.
From a technical standpoint even SiriusXM is seeing challenges.  Many technical indicators have shifted to bearishness even when we know that this company should have several great quarters ahead.  What differentiates a good company from a great company bis the ability for that company to weather these types of storms.  From a fundamental standpoint SiriusXM is performing very well.  It should be enough to allow the company to hold the line, or at a minimum be quick to recover from a market correction.
If you have watched the news you hear talk about a fiscal cliff.  It is scary.  Even some of the biggest and best companies are concerned, and you should be as well.  That does not mean that you should run out and sell everything.  However, it is very prudent to have a strategy in place.  If we see a fiscal cliff and a market correction very few equities are immune.  Looking at SiriusXM's current price it is tough to imagine a company that could tumble to the 200 day moving average at $2.30, but it is a possibility.  In May and June of 2012 SiriusXM spent a good deal of time below that very average!  How do you plan?  The answer is research and understanding.
Here at SiriusBuzz we offer a Premium service.  SiriusBuzz Premium is a growing community of serious investors that want more insight, more analysis, and less noise.  That is exactly what we offer.  We look at the near term, the mid term, and the long term.  There are members that are active traders and members that are the buy and hold type.  We offer regular analysis that satisfies both of those appetites and everything in between!  Daily technical reports, concise analysis, and Bullet Points give our readers a leg up on the dynamics that are SiriusXM.  You'll know everything instantly because all Premium members have access to free email alerts.  If you are a serious investor you have nothing to lose!  SiriusBuzz Premium comes with a 30 day money back guarantee!
Currently SiriusXM carries some lofty price targets for 2013 of $ per share and beyond.  While the company is certainly headed to better performance and more growth, that does not mean that tougher times are not in the cards.  Earlier this year I saw the technicals bringing on a retrace to $2.30 and put out that warning for readers.  I saw the technicals point to a run and then another correction, followed by yet another run and correction.  In the space of 3 months this equity has ranged from $2.33 to $2.97!  Is it headed to $3.00 or can it touch the 200 day moving average at $2.30?  The fact is that it can go either way because there are technical indicators that are converging.
As of this writing the 5, 13, 20, and 50 day moving averages are all within 6 cents of each other.  Typically when this happens an equity is getting poised to make a move.  Determining the direction of that move is the trick.  It would be easy to say that the macro economic picture shows bearishness.  It would be easy to say that the company will report a monster Q4 and the street will be bullish on SiriusXM.  Both answers are potentially correct.  Investors can protect themselves by understanding key support and resistance levels as well as knowing where the moving averages sit.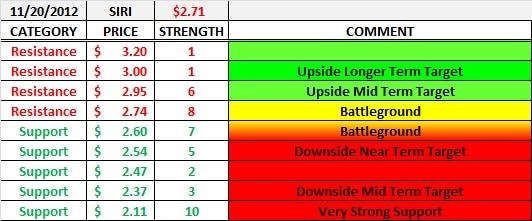 The chart above is offered regularly on SiriusBuzz Premium.  It outlines support and resistance.  As you can see, this equity is trading in a battleground with major resistance at $2.74.  As of this writing the equity is sitting just above that level at $2.75.  This is a dynamic time for SiriusXM.  Is Liberty Media supporting the price with open market purchases?  What happens when Liberty stops buying?  The key levels to consider are $2.75, $2.60, and $2.95.  If SiriusXM can hold above $2.75 it would be a bullish signal.  The last two trading days have removed two caution flags from my technical analysis.  These are the early signals that investors look for.  It is in these days that an equity proves that it can weather a storm.
Below is an Exponential Moving Average (EMA) chart that is also a regular technical feature of SiriusBuzz Premium.  It outlines technical bullishness or bearishness based on exponential moving averages.  Last Thursday this chart had caution flags across the top.  On Friday one caution flag was removed (red to green).  On Monday a second caution flag was removed.  SiriusBuzz Premium members got that insight prior to today and we are now on the cusp of seeing yet another two caution flags removed.  This is turning bullish.  If you do not follow technicals regularly you would miss these hints of a change of direction.
While the warning flags still remain in place, the early indication is that the equity is making a slow turn to bullish behavior.  The caution is that all of the EMA's are very tight.  Thus you want to have $2.60 on your radar screen and develop a strategy for how you react if a downturn happens.  Also on your radar screen should be $2.95. Always remember, that the overall market can be a boost or a weight to any equity.  There is uncertainty out there right now.  At the moment this equity has challenges in passing below $2.60 again just as it does getting to $3.
The key is having a strategy developed based on insights that tell you the fundamental and technical dynamics of this comp0any.  Happy Trading!