Well, it was bound to happen at some point.  There are many dynamics coming that may indeed call for a double-check on SiriusXM's valuation in the near term, but most moves the company is making will be a bigger benefit in the longer term.  In case you have missed my writings over the last year, the GM deal will carry a very negative impact on the Q4 subscriber numbers (a near term hit), but in the longer term it will be a huge cash flow positive.
We did get guidance in the Q3 call, but the starting point was below what analysts were thinking it would be.  The company is guiding to $4 billion while analysts were at $4.18 billion.  Essentially the company is $180 million below expectations.  In normal situations this may not be a huge deal to analysts, as SiriusXM is known to under-promise.  However, the company is guiding to a $0.50 increase in price, which would in theory deliver an additional $90 to $100 million.  Analysts were expecting $4.18 WITHOUT this price increase.  Thus, The delta between guidance and expectations for 2014 was almost $300 million.  Now we can see why the analysts have begun to temper their enthusiasm.
I was expecting that SiriusXM was in a bullish enough pattern to accept 2014 guidance and test $4.25 before taking a break.  Quite clearly, that did not come to fruition.  We now have to deal with a lower than anticipated guidance, and come to the realization that the $4.18 was the near term top and not $4.25.  While I was indeed a bit bullish, I was entering a caution phase of the top being in play.  I was expecting the quarterly news and guidance to be enough to get us there.  It was not.
What we now have before us is what will promise to be a very negative Q4 report in the near term.  In my opinion the company did not do investors any favors in the latest call.  The warnings that should have been issued were not.  Consider this:
The company essentially guided to negative subs in Q4, but did little to explain why this will happen (the dynamics of the GM deal and how subscribers are counted) and that it will be an overall positive in the long term.
We have a satellite that has launched and there will be associated expenses that will be captured in Q4.
The company refinancing activities will carry a Q4 impact.
In essence, there is serious risk that when Q4 numbers are released we will see a short term disaster on our hands.  I will be very cautious on SIRI in the next 3 to 4 months.  Even if the technicals get stronger, I will harp on the potential setbacks we may see. FAIR WARNING.  There is a huge aspect of the market that is about meeting expectations.  In my opinion the company has done little to properly frame these expectations well for the street.  The longer term story still appears to be quite sound, but the near term could have hurdles.  Unless I see the expectations of the street adjust, I will seem like a big BEAR on this equity as the next few months pass.  It ios not that I lack a belief in the company.  It is a situation of stock price vs. expectations.
The volume on Frioday was a massive 281 million shares.  If you were able to sell the top, congratulations.  If not, this is where technicals come into play.  What we want to see now is volume dry up.  This equity may well continue down, perhaps as low as the 200 day EMA at $3.40 or so.  The bottom will be identified when we see the price action flatten out on lower volume.  In my opinion the next risk point is $3.60.
We have the 100 day EMA at about $3.70.  This level was already tested on an intraday basis.  What we are seeing is a virtual reset on SiriusXM.  We need to accept that and view the equity technically from this point forward.  Again, support point 1 is $3.71.  Support level 2 is at $3.60.  Support level 3 is $3.50, and support level 4 is $3.41.
We want to see if this equity can hold above the $3.71 level for several days without testing it at all.  If we test that level, then we need to seriously consider a drop to $3.60.  The key is watching the volume.  You need to have both $3.60 and $3.50 on your radar screen.  Even if we find the bottom, it may not signal a buy.  This is where street expectations come into play.  The story of the next 3 months is caution.
The EMA's are currently ugly.  The make-up is now off.  We have 4 caution flags and two warning flags.  We have some room before a third warning flag comes up on the 5 day bar, but are in real danger of a third warning flag via the 13 day bar.  We may well see that early next week.  We will not see warning flags disappear unless this equity sees a 20 cent pop.  I do not see this happening.  We are in a bearish patter in the near term with the very real possibility of a third, and even fourth warning flag appearing this week.  If I were a pure technical player I am selling here and waiting to buy back (so long as I want SIRI in the longer term) after the equity bottoms out on the technical front.  If I am simply a trader, I sell here, find another equity to sink money into in the near term, and when a bottom in SIRI forms assess the current situation vs. street expectations.
Volume

Support and Resistance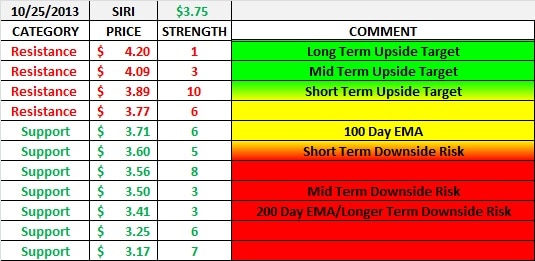 Exponential Moving Averages