The overall economy and markets impact established equities.  SiriusXM is not immune.  The equity closed at $3.72, and while it did indeed dip below the strong support and resistance level of $3.74, it did hold the line at the 100 day EMA.  The key here is holding that line again.  The 100 day EMA sits at $3.71.  A decent day in the overall markets will benefit this equity, while a bad day will impact it.  I see little on the news front specific to SiriusXM that will be a catalyst one way or the other.  In essence, we are simply consolidating and waiting for some catalyst to decide the size of the move.
We have 3 caution flags added, but a close above $3.73 will remove two of them.  If we can close above $3.76, all caution flags will be gone.  The EMAS's remain very tight.  Investors should be ready for a 10 cent move at any point.  That means we break up toward resistance at $3.84, or we break down and test $3.61 once more.  In my opinion the direction rests with the overall economic environment rather than anything with SiriusXM.
It is sad to say, but I think we are in for a long few weeks to close out 2013.  The market seems to be good one day and bad the next.  The see-saw ride is what may be typical for a few weeks yet.  Auto sales were good, so at least that is now understood.
Lastly, as I had mentioned at the beginning of the week.  A cousin of my wife, at 22 years old, has been diagnosed with cervical cancer.  She has no insurance and as you can imagine, the costs are expensive.  She lost her father two years ago to cancer.  The family is doing everything we can to help her during this difficult time.  At this time of year, I wanted to reach out to members to appeal to your warm hearts.  For every $10 you pledge, I will personally send you two powerball tickets for the December 21st drawing.  A couple of you have already pledged.  Thank You.  You can pledge by sending me an email to satellitestandard@gmail.com.  Simply put a "fund" in the subject line, include your name and address (so I can send you your powerball tickets), as well as a message of encouragement.  I will be sending out an email to those that helped this weekend.  Hopefully you can find it within yourself to help.
Volume

Support and Resistance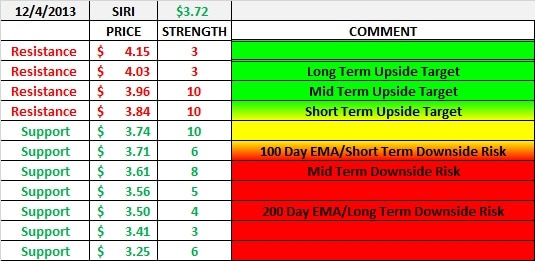 Exponential Moving Averages