SiriusXM has closed all of 2013 above $3.00 per share.  Hopefully it can stay that way, but only time and technicals can bear that out.  The biggest news today was that Liberty Media received FCC approval to acquire control of SiriusXM.  This is good in that it removes a question and helps establish a template for how fast this will all happen.  I look for Liberty Media to gain actual control prior to converting any more preferred shares.  The media giant had committed to the FCC that it would convert preferred within 60 days of approval.  Put March 3rd on your calendars now!
What we can anticipate is, sometime soon Liberty Media will be buying more shares of SiriusXM on the open market.  That special dividend comes in handy!  In fact, it seems that it will be just about enough money to cover the shares needed.  Kind of funny how that works huh!
Now to a quick update and the technicals.  I am back from a holiday trip and getting into the swing of things.  While gone I did keep up with regular updates, so I hope those came in handy for some of you.  Hopefully it appears that we did not miss a beat during my travels.  Having premium subscribers is a commitment so we try to minimize interruption.  The technicals are quite interesting so I will get right to the point.
Volume
What we have seen in the past couple of trading days was SiriusXM move up on  good volume.  One interesting note is that yesterday's volume was slightly higher than today.  That can be a sign of a near term crest developing.  Be aware of that.  What can make the surge continue?  More news!  SiriusXM may try to keep the proverbial ball rolling by putting out a subscriber number.  In addition we should be seeing final auto sales results as a positive.  If the news comes out we can see a spike.  If it does not, we have already seen the first hint of a crest.  Plan accordingly.

What we want to see is the volume pick up a bit as the equity rises.  As long as volume is higher the equity can make moves.  If the volume begins to taper off the strength of the move is less and an active traders watches for that.  There is a substantial short interest in this equity as well, so that could play into this as well.  SiriusXM running past $3.15 could be enough of a trigger to make some shorts cover.
Support and Resistance
This chart is interesting as well.  The last two days =have helped to add substantial strength to the support level at $2.89.  It is a good thing to see the strong support at that level.  We will all likely be quite happy when strong support moves up to $3.00.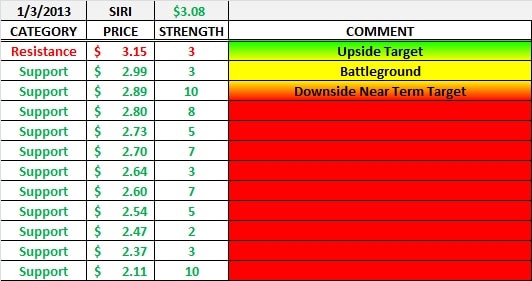 The key levels here are $2.89, $3.00, and $3.15.  We could very well establish a new trading range between $3.00 and $3.10 if this run loses steam.  Develop your trading plan now.  This is the perfect opportunity to watch for a crest.  The wild card is when Liberty makes a share purchase.  We know they have the cash, so it could be any day.
Exponential Moving Averages - EMA's
All caution flags are gone and we are seeing a bit of wiggle room develop.  In fact, we are safe from any caution flags unless this equity dips back below $3.00.  That gives us 8 cents to play with!  The signals are all bullish.  I am going to focus a bit on the short term.  With this much wiggle room the first signals of a crest will not show here in the EMA's.  This is why you want to watch the volume.  It will be your first signal.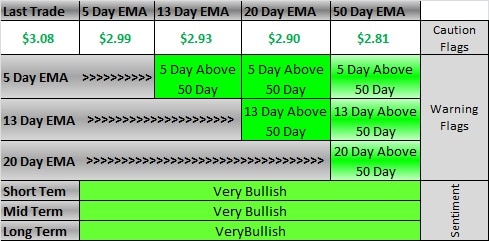 Mock Account 
I outlined a trading strategy about this equity going up over $3.00 on volume.  Unfortunately for me I was flying and unable to make the buy at $3.05.  These things happen in real life, so I still have dry powder.  I will be watching the action at $3.10 pretty closely and simply wait to see if the crest will be $3.10, $3.15, or if we are on a run to $3.25.  If the equity fails to really test $3.15 I will simply wait a bit longer