Wow!  The trading action on SiriusXM certainly keeps us all on our toes.  After a takedown yesterday SiriusXM put on its jogging shoes and made a bit of a run today.  Yesterday we were seeing downward pressure on increasing volume, today we see an upward move on higher than average volume.  It certainly makes things interesting.  As usual, I want to see what Liberty has been up to.  They have room to buy another 50 million shares or so before hitting 50%, so they could be a factor.
Volume
SiriusXM traded at higher than average volume, but less than yesterday.  Simply stated, the move up was not as bold s the move down. It certainly was not strong enough to present a meaningful test to $2.50.  Yesterday I stated that we want to watch what happens, and on what volume that action occurs.  We saw a reversal from moving down on high volume.  That is good.  We saw above average volume on a move up.  That is good.  The volume was not as strong as the move down.  That is not as good.

Tomorrow what we want to watch for is how much volume we have, and whether this equity has any strength to test $2.50.  In the back of my mind I am anticipating seeing a Liberty form 4 for today at some point bin the near future.  If Liberty was in the market, that would explain the action, as they tend to prop the share price.
Support & Resistance
There is some good news on this front.  The $2.35 level is creeping up toward the $2.40 level.  This is providing a double layer of weaker support (better than a single layer).  I had spoken about SiriusXM establishing a wider trading range, and if the $2.40 level holds over the next few sessions, that is what we may see happen.  The range right now (a weak range still) is between $2.40 and $2.50.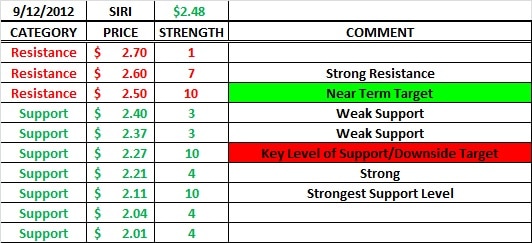 It takes a lot of attention to trade this equity and refine the data.  Most moves give a subtle clue prior to happening.  Right now the only clue we seem to have is that SIRI is demonstrating some strength above $2.50.  If Liberty was not buying that is "real".  If Liberty was in the market, then we have to understand that there could still be overall weakness.
Exponential Moving Averages - EMA's
There is a stark difference between what this chart looked like at mid day vs. the close.  The good news is that SIRI erased a couple of bearish cation flags.  The bad news is that the equity barely did that, and a danger sign is still on the chart.

SiriusXM is sitting right at the 5, 13, and 20 day averages with precious little wiggle room, and strong resistance above.  Needless to say this is not a very comforting place to be.  There is little room above before a wall, and the safety net is down at $2.40.  To maintain the bullish recovery and erase the danger sign, Sirius XM needs to close at about $2.53.  If it closes below $2.44, a new danger flag could develop.
Summary
New trading range possible.  Watch what happens with volume and where it happens.  A wall at $2.50.  Liberty holds a key that will provide an answer later.