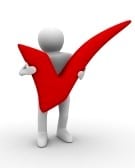 Okay satellite radio investors.  It is time to pay close attention.  While you may think that you have no say in the proposed Liberty Media buyout, that is not the case.  The transaction needs the approval of three entities to occur:
Approval of Liberty Media shareholders
Approval of an independent board at SiriusXM
Approval by a majority of the minority.
Yes, Liberty controls 53% of SiriusXM, but the third point listed above is likely YOU.  A majority of the minority consists of investors other than Liberty Media and its affiliates.  Simply stated, you do have a say in whether this transaction happens -- even though you do not have much of a say in the transaction placed before you.  Liberty and the independent SiriusXM board will hammer out a proposal.  That proposal is what will be presented to you, a minority shareholder.  This is where you need to pay close attention.
In most public companies, a share carries with it voting rights.  Typically, 1 share equals one vote.  That is the case here with SiriusXM.  As you may know, there are often instances where shareholders do not vote.  In some instances, a non-vote passes on to to Board of Directors to vote.  In some instances, a non-vote is like voting for a proposal.  In some cases a non-vote is like voting against the proposal.  This is exactly why, as an investor, you need to pay attention.  Understanding that most votes are never cast can stack the deck in favor of a particular direction.  When Sirius andXM were getting ready to merge, a non-vote was essentially a vote in favor of the merger.
This past year Dell Computer had a vote on whether or not to take the company private.  That deal required a majority of the minority to move forward.  In the case of Dell, a non-vote was actually counted as a vote against the transaction.  It made the job of getting the majority much more difficult.
Investors will want to pay close attention to how the proposal, when it gets placed in front of investors, is worded.  If the independent board is in favor of the proxy, a non-vote will likely be a vote in favor.  If a proxy happens without the independent board recommending it, a non-vote would likely be against the transaction.
As an investor, no matter how you feel about the proposed transaction, you can garner some insight into the likely result before it happens by understanding what happens with the non-votes ahead of time.  The odds are in favor of going in the direction of how the non-votes are counted.
As an investor, you owe it to yourself to pay close attention.   If you have not joined SiriusBuzz Premium, you may want to consider giving it a try.  Our members get regular technical updates and articles that are not available on the standard site or anywhere else.  Join the savvy investors that use SiriusBuzz Premium as a major tool in their research!