Do not get too excited.  SiriusXM is getting a little more bullish, but there is still a proverbial cap on this stock due to the Liberty situation.  The equity removed a caution flag and a warning flag in the session on Friday.  That means that there are now no caution flags, and the equity appears to carry a bullish bias.  That being said, this action happened on low volume.
Yes, we closed above a critical point at $3.61, but we did not do it in a convincing manner.  Right now this equity is leaning to the bullish side, but it is not overly bullish.  the best news right now is that the equity is showing strength above $3.50.
This week, Liberty media will be reporting its results.  I suspect that two major subjects will be SiriusXM and Time Warner.  I suspect, and I think the street does as well, that SiriusXM will offer up some sort of response prior to the Liberty media call.  I suspect, and I believe the street does as well, that the counter-offer will still be a ratio, but perhaps very slightly bigger.  perhaps in the neighborhood of 0.079 shares of C series for every SIRI share.  A wild card would be an additional option for a pure play buyout, which would cause excitement, but realistically is not really viable.
I still feel the cap is at $3.80 or so, and there would need to be overall market winds to bring that pricing into play.  What we have is a "wait-and-see" situation.
Volume

Support and Resistance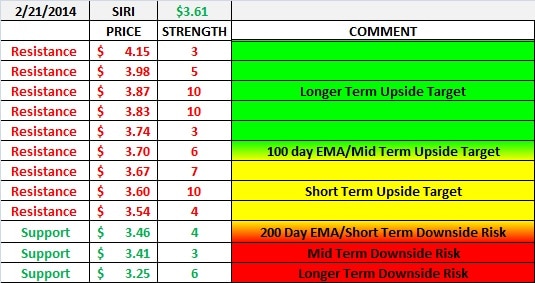 Exponential Moving Averages