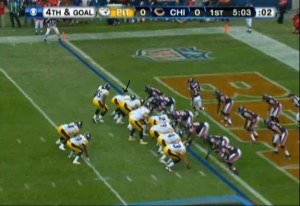 The NFL season is upon us, so I thought that an NFL themed title would be appropriate.  While it may not quite be 4th and goal, it certainly feels like it.  From a technical standpoint things are getting so tight that something is going to give.  Whether it will be a touchdown, or a field goal is the issue at hand.  A touchdown is SiriusXM breaking to the upside.  A field goal is a small retracement that will serve to set up the next drive.
Before getting into technicals, I want to thank the premium members for their support.  If you appreciate having a premium aspect to the site, spread the word.  This hybrid concept is new, so we would love feedback.  How can we make it better?  Are we meeting expectations?  Do you have any concerns?  Your input is what will drive this site.
Volume
Volume was once again light.  While it was slightly heavier than yesterday, it appears that the share price is behaving as if it is still being supported by Liberty.  This story is far from over, as Liberty needs about 50 million more shares to garner a 50% stake, or another 200 million or so to guarantee that dilution from converts and options do not take them below.

As I have said several times now.  This equity is consolidating and constricting.  What we want to watch for is a move on volume and for volume to begin a trend.  Up one day and down the next is simply evidence of a lot of people on the sidelines.
Support & Resistance
The story here remains essentially the same as yesterday.  While getting over the hump at $2.56 would seem like a small victory, there is another hurdle sitting right at $2.60 that is getting stronger.  It will take some energy to pass these two levels.  Can SIRI hold the line until news?  That is the $1 million question.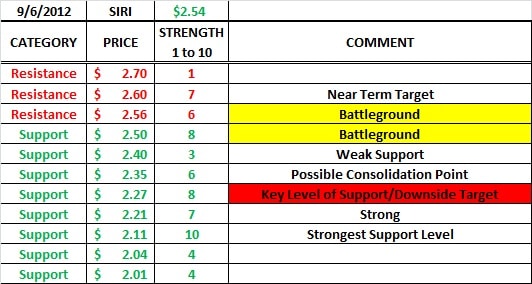 What we want to watch for is the behavior of this stock around the $2.50 level and the $2.56 level.  Does the equity test these levels.  What happens when it does?  The equity tested  $2.56 today and bounced down off of it like it was a plague the first time.  Subsequent tests actually repeated with slightly better results.  This is worth noting.  Keep it in the back of your head, because amidst several caution flags, we have tested $2.56 a few times in one trading session.
Exponential Moving Averages - EMA's
The EMA's are remaining as tight as ever.  The stock closed at $2.54, which allowed us to avoid a couple of red flags, but this equity is barely holding the line and not widening the gaps, but narrowing them.  That means caution.

We have just a penny between close and the 5 day.  A penny between the 5 and 13 day.  Just 4 cents between the 13 and 20, and only 5 cents between the 5 and 20.  You should be able to see why caution is warranted.  However, this is where the testing of the $2.56 level comes into play.  If the equity can pop up and close at $2.56, it gives us some technical breathing room.  Right now we are in a race for positive compelling news, and constricting technicals.
Summary
Develop your plan of action and contingencies now.  Many will hold through this.  If you are on the sidelines waiting to jump in or short, you likely have an itchy trigger finger.  It would appear that the sidelines are filling up quickly, and at some point people will get pushed into the field of play -- just make sure you're ready.