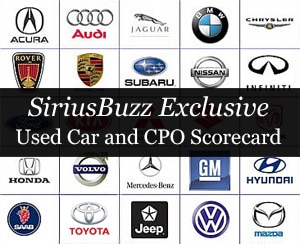 The SiriusBuzz Used Car and CPO scorecard was created to allow investors to begin to track a segment of the OEM channel that will become increasingly important to Sirius XM Radio as each quarter passes. We utilize Vehix.com and CarMax to track inventory and penetration rate. By understanding these numbers investors can begin to gauge the contribution this segment makes to the subscriber picture.
As of today Vehix.com has an impressive 454,802 used vehicles in their inventory. This is up sharply form the 376,811 that was showing in inventory only 1 week ago. Of the current Vehix inventory, 15.5% are equipped with satellite radio. This represents a low in penetration since we began tracking the data a little over two weeks ago. The penetration high at Vehix was 17.44% on June 1, 2010.
The sudden jump in used car inventory could serve as verification of new cars being bought over the Memorial Day weekend at the end of May. It will be interesting to see if Vehix inventory levels taper off as the month continues. In terms of Certified Pre-Owned (CPO) cars, Vehix is showing a consistent 32,498 vehicles. The CPO cars are a subset of the used car category. Less than 10% of the used cars are CPO's. Of the current CPO inventory of 7,363 of the cars are satellite equipped. This represents 22.66%, the highest penetration to date.
The CarMax data show a consistent 26,698 in used car inventory. Of this, 9.256, or 34.67% are satellite equipped. This also represents a high since we began tracking this data. Fore satellite radio investors this is good news. We are seeing consistent inventory with higher penetration. This is the type of activity we are looking for.
Tune in each Tuesday for the SiriusBuzz Used Car and CPO report. In addition, Tuesday's feature SiriusBuzz Radio at 9:00 PM Eastern.
Position - Long Sirius XM Radio