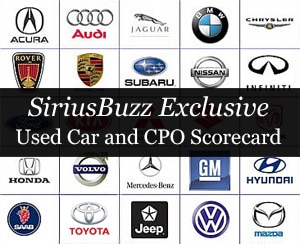 It is Tuesday again and that means that it is time for a weekly update of the used car and Certified Pre-Owned markets and how they relate to Sirius XM Radio. With each passing month, the penetration rate of satellite radios in used cars increases in number as well as importance to Sirius XM Radio. The used car and CPO markets are getting to a point where they deserve the attention of investors. Used cars do not typically come with a promotional subscription to satellite radio. Most CPO cars do come with promotional subscriptions.
As usual, we utilize two national names in the auto market to collect our data. Vehix.com is a national website that aggregates cars from thousands of dealerships across the country and displays that inventory on their website so consumers can search for the car they want with the options they want. Our other source is CarMax, a national dealership network that specializes in used cars.
This week Vehix has a used car inventory of 373,453 vehicles. Of this number 63,822 of them are equipped with satellite radio. That is 17.09%, and has been in the typical range for Vehix over the past month. The used car inventory is down, offering a small indication that used car sales are moving along, but inventory levels are not being bolstered by new arrivals from consumers trading in for new cars. The CPO cars at Vehix (a subset of the used cars) stands at 31,738. Of that, 6,731 ( 21.21%) are satellite radio equipped.
Carmax data presents the highest satellite radio penetration yet. A full 34.79% of the 27,710 used vehicles in their inventory are equipped with satellite radio. Carmax has seen higher inventory levels, but their inventory is consistent with what we have seen over the past month.
One key aspect of success for Sirius XM in the used car market is getting the word out. Last month Sirius XM had turned on all satellite radios to give people a taste of the service. Unfortunately the average customer, and many car dealers had no idea that the promotion was even happening. Hopefully the company will do this program again and get some additional promotion behind it. A simple alert to dealers would give them an additional selling point and inform consumers at the same time. Additionally the company should consider placing ads on websites such as CarMax, Vehix and Edmunds.
Another key point I have come across in the network of OEM's I speak to is that consumers often already have a subscription when they are considering a purchase of a car. Sirius XM customer service should be better versed in dealing with this situation. Assume Jud is trading in a car that has 11 months worth of subscription on it. Customer service should be instructed to add that 11 months to the promotional period on the new car, and perhaps even toss in a month to round it off.
With used cars becoming more important, the company needs to apply a focus on how to get the word out, as well as how to interact with the consumers as well as dealers.
Position - Long Sirius XM Radio