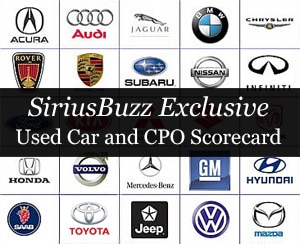 As we all heard from CEO Mel Karmazin last week when he appeared on CNBC, the used car channel is of growing importance to Sirius XM Radio, and by extension should be important to investors. While the numbers are still not huge, they are growing as each day passes. Additionally, as the auto sector continues to recover on new car sales, there will be a larger used car market from which to tap subscribers.
The SiriusBuzz Used Car and Certified Pre-owned (CPO) Report was implemented to track what is happening in the used car sector, monitor for increases in satellite radio penetration, and to give investors additional insight on the OEM channel above and beyond new car sales and production. We utilize Vehix.com and CarMax to monitor the segment. This avoids possible duplication, but gives a good flavor of what is happening in the market.
Vehix.com saw an interesting beginning to the month with a substantial boost in inventory. Just a week ago Vehix had an inventory of 454,802 cars. This week that number has dropped substantially to 395,476. This could be an indication that used cars are selling at a good pace. On the flip side, the lack of consistent used car inventory could be an indicator that few cars are being traded in to buy new ones. It is early in the month yet, so time will tell. The penetration rate of satellite radios on used cars at Vehix is 16.94%. Not the highest we have seen, but above the lowest. For Certified pre-owned cars (a subset of used cars), the inventory is 32,901, of which 6.975 are satellite equipped. This represents 21.20%
The data at CarMax is interesting as well. CarMax has 27,026 cars in inventory, and 9,397 of those are satellite equipped. This represents a high for penetration since we started reporting this data. Overall, the satellite radio penetration is keeping in a relatively tight range even with fluctuating inventory.
Position - Long Sirius XM Radio