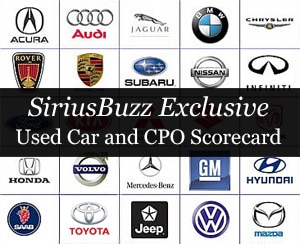 Memorial Day weekend is now complete, and new car sales data for May will be available over the next two days. The SiriusBuzz Used Car and CPO Scorecard was developed so that readers can also track a sector of the OEM channel that will carry growing importance going forward. This week, in addition to the used car and CPO data, we will also give you some flavor on our take for new car sales in May.
SiriusBuzz tracks used car data through CarMax, a prominent national used car dealership, as well as Vehix.com, a national aggregator of cars (new and used) available from hundreds of dealers across the country. This gives us an idea of satellite radio penetration in the used car market. It will also be where readers can learn of any new promotions or marketing programs that Sirius XM develops for this growing segment of OEM potential.
VEHIX.COM Scorecard
Currently Vehix.com has a used car inventory of 367,474 vehicles. Sirius or XM satellite radio is included in 63,502 of those cars. This represents 17.28% satellite radio penetration. The peak penetration of satellite radio on Vehix was 17.41% on May 28, 2010.
The Certified Pre-Owned segment is a subset of the used car segment. Vehix currently has 31,931 CPO cars in their inventory. Of these CPO cars, 7,009 are equipped with satellite radio. That is a penetration of 21.95%. The peak penetration was 22.14% on May 30, 2010.
While tracking used cars I also track new cars sales as well. Because new car sales will be making the news over the next couple of days I will add some insight on the new car channel. Vehix.com currently shows new car inventory of 131,293 vehicles. 46.02% of those vehicles are equipped with satellite radio. The peak penetration was 46.33% on May 22, 2010
Going into the Memorial Day weekend Vehix new car inventory was 134,096. At the conclusion of the weekend, the inventory was 131,293. Readers should bear in mind that there is no way to account for additions to the inventory during this period. Thus, more the minimum number of Vehix new cars sold was about 3,000. There is no way to gauge the maximum. Typically the number has fluctiated by about 1,000 vehicle per day. Inventory was actually higher the week prior. Given this information, it would appear that sales over the holiday weekend were decent, but not extraordinary in my opinion. My checks on several local dealerships showed decent foot traffic, but not peak traffic.

CARMAX Scorecard
Carmax currently has 26,844 used cars in their inventory. Satellite radio equipped used cars at CarMax total 9,174. This represents penetration of 34.18%. The peak penetration for Carmax Used cars was 34.34% on May 22, 2010. The Carmax used car inventory decreased by about 2,500 vehicles during the course of the holiday weekend.
Carmax does sell new cars as well. While the size of their inventory is statistically insignificant, it does serve as a measure when compared to previous CarMax data. Currently CarMax has 1,211 new cars of which 385 are equipped with satellite radio. This represents penetration of 31.79%.
In the new car sales for the month of May, most analysts were anticipating sales of just over 1,000,000 units for May. These analysts were putting a lot of weight on the Memorial Holiday weekend to boost car sales. Through my research, I think that holiday sales were not quite what some were looking for. I am projecting May sales to be just below 1,000,000. A possible boost could come from fleet sales. Regardless of whether the number comes in just below 1 million or just over 1 million, the key is that the number is about 1 million, and that delivers positive subscribers for the second consecutive month of the quarter.
Position - Long Sirius XM Radio